The multi-list subscription feature enables you to provide more targeted, engaging email content to your subscribers.
Use this option to ask about their interests or preferences at signup. The form will automatically add contacts to the corresponding contact list(s) based on their selections.
For example, you can offer contacts the ability to subscribe to updates about specific topics, products, or other interests. Or, you might offer the option to select their desired contact frequency (e.g. weekly, monthly or only sales).
Before you start
Decide which options to offer and create the corresponding contact lists by navigating to Contacts > Lists > Add a new list.
You will need one contact list per interest to be displayed on your form.
It's important to note that even when the multi-list subscription option is enabled, form setup still needs at least one corresponding "master" contact list to be associated with your form. All contacts who complete your form will also be added to the selected corresponding list. For example, if you will add three subscription interest options to your form, you will need four total lists.
💡 Good to know
The name assigned to your lists will be visible on the subscription form, unless you choose to modify it directly in the form.
Create or choose your contact form
To create your contact form, you can follow the dedicated series of articles.
Add a multi-list subscription to your contact form
Enable the multi-list subscription option
Simply drag & drop the Multi-list subscription field from the left panel of the form editor to your form.
You can then select multiple interest or preference-based lists to be displayed on the form

from the

Select your lists

dropdown on the left panel.
Customize your multi-list
Y

ou can also choose the display option between

checkboxes

and

multi-select dropdown.
Options to add a Label

and/or

Help text

to describe the category of lists subscribers may join is also available.

Click Save

. Now, your form will add new subscribers to the interest or preference-based list(s) of their choice.
Edit the name of the subscription lists
You may modify the descriptions for each interest by changing the text directly within the form editor.
Remember to select your desired "master" list where all contacts will also be added.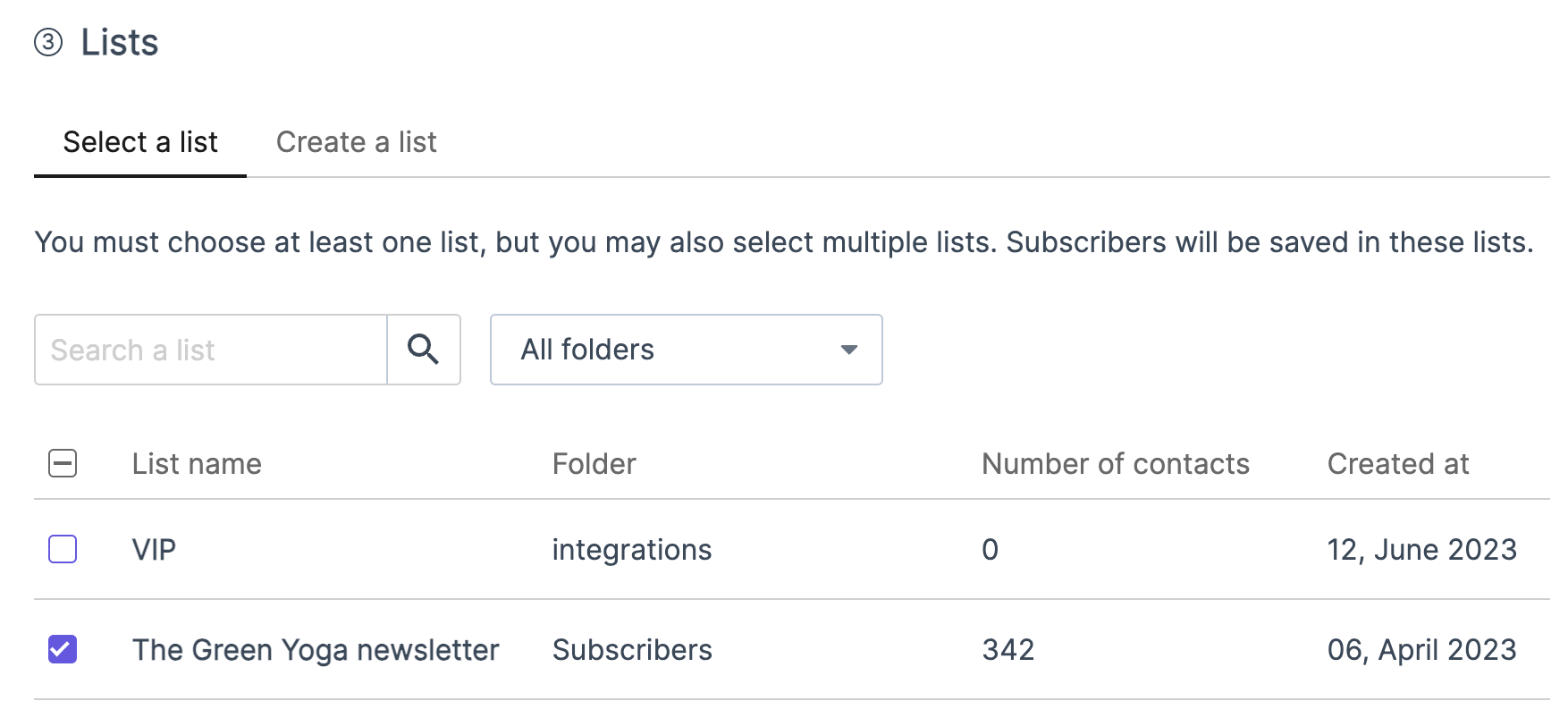 ⏭️ What's next?
You can use Brevo Automation to trigger helpful marketing actions based on the list(s) to which your contacts are added.
For example, you can use the Welcome Message workflow to send a single message or welcome series to your new contacts. Or, you can create your own custom workflows that will start when a user is added to your list, or based on the date when a contact was added to your list.
🤔 Have a question?
If you have a question, feel free to contact our support team by creating a ticket from your account. If you don't have an account yet, you can contact us here.
💬 Was this article helpful?
3 out of 9 found this helpful