In this tutorial, you'll learn how to install Shopware 5 plugin and connect it to your Brevo account.

Download the Shopware 5 plugin
⚙️ Installing the plugin
There are 2 ways of installing the Brevo plugin for Shopware 5:
To install the plugin using the Shopware Plugin Manager:
Go to Configuration
Search for Brevo plugin
Click Install
Click Activate
Now the plugin is installed and activated in the Plugin Manager under Management/Installed.
To install the plugin using a zipped file:
Download zipped file, do NOT unzip the file

Go to your Shopware backoffice

Go to Configuration

Find Plugin manager

In the Plugin manager, choose Installed

There click on Upload plugin

Select the zipped file you previously downloaded and click Upload plugin
You will see Brevo plugin under Inactive plugin settings. Click on X to activate plugin.
When Brevo is listed under Installed, the plugin is active and ready to connect to your Brevo account.

✅ Connecting to Brevo
Now that the plugin is installed, it's time to connect Shopware and Brevo:
Go to Marketing section of Shopware menu
Search for the Brevo plugin and click on it
You will see plugin interface where you would need to:
Click Connect

If you already have an account in Brevo, you will see this window where you need to allow access to your account.

If you do not, log in to your account or create a new one.




After allowing access, you will see Connection details. All fields are generated automatically so you just need to click Save.



❗️ Important

Make sure the username is sendinblueApiUser. If it's different, turn off your password manager.
When the connection is saved, you will be redirected to the Settings page.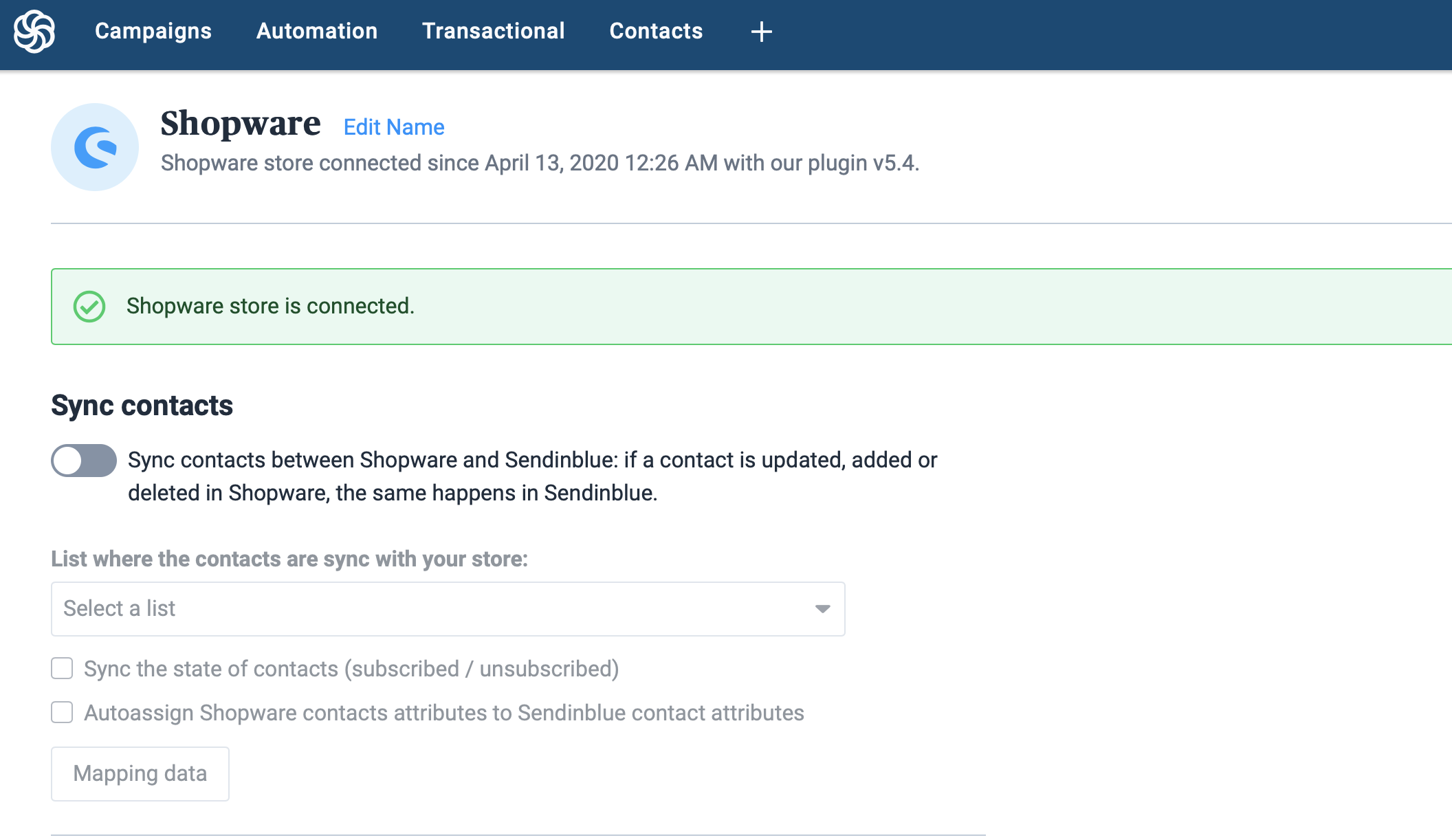 Congratulations! You have integrated Brevo to your Shopware account 🎉
⏩ What's Next?
🤔 Have a question?
If you have a question, feel free to contact our support team by creating a ticket from your account. If you don't have an account yet, you can contact us here.