The [New design] Drag & Drop Editor makes it easy to design professional-looking emails. It provides more options to customize your email and also ensures that your email looks perfect on any email client and device.
After creating your campaign, you might be curious about how it will appear to your recipients once it's received. In this article, we will explain how to send test emails and preview how your email will look on different devices.
We've divided the [New design] Drag & Drop Editor articles into the following parts:
Click on Actions in the top navigation bar to display different options:
Version History
The Version History action allows you to see the previous actions you performed in the Drag & Drop editor and restore it if needed.
Click Version History and click on the previous design versions of your campaign in the left panel. Choose the version you want to restore and click Restore selected version.
Preview
By clicking on Preview you will be redirected to the Preview & Test page. From this page you can Send test email or Preview as customer.
Send test email
Before sending your campaign, you should always send a test email to ensure that your design, personalizations, and links are all working fine. To send a test email:
Go to the Send test email tab.
Start typing your email address or one of your colleagues in the search bar.
You can add more than one email address.
Click Send test.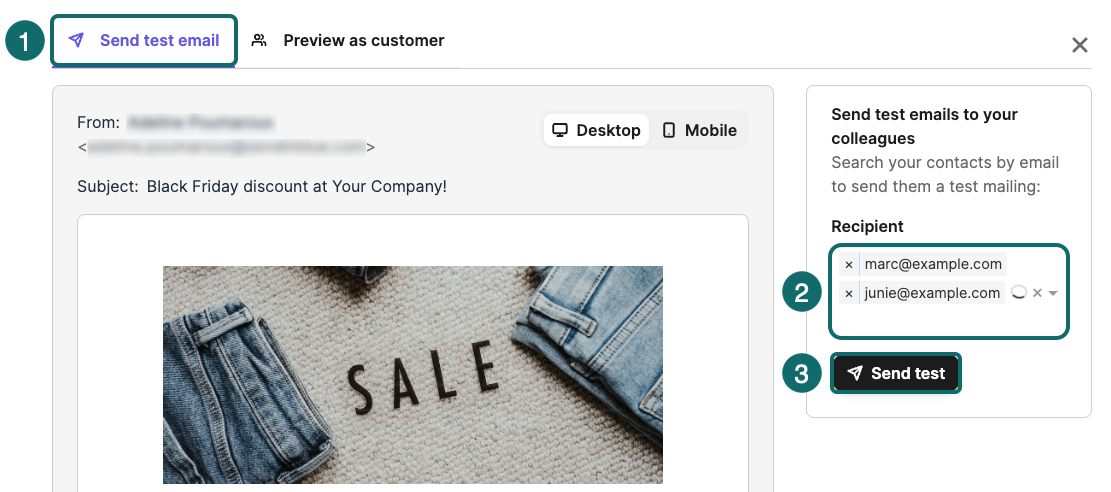 ❗️ Important
If you're on a Free plan, the links in your email will expire after 30 minutes for technical and security reasons. You will see an error message This link has expired, please send another test email and test the links within 30 minutes.
The links will not expire when you will send the real campaign to your clients.
You can also send a test mail from the campaign confirmation step. Watch the video to know more.
Preview as customer
With this option, you can preview how your email will look on desktop and mobile devices.
You can also use this preview to make sure your personalization placeholders in blocks and in the From fields are populated correctly.
To preview a personalized version of your email as a specific recipient, start typing an email address in the Recipient field on the right and select it from the list. Personalization and conditional display based on contact attributes will be displayed accordingly.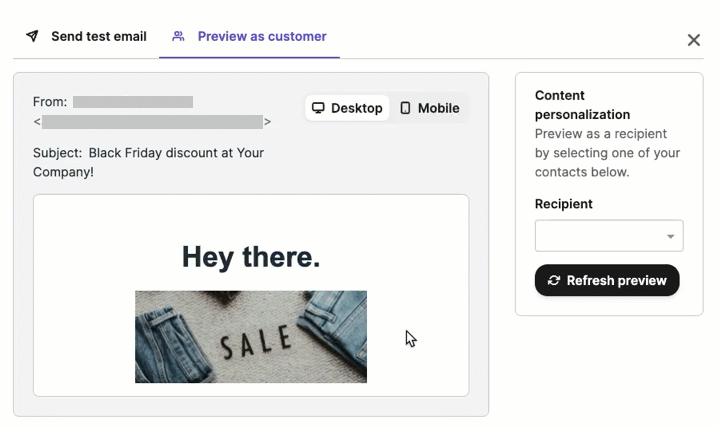 Save
Hit the Save button if you want to save your changes but keep working on the design.
🤔 Have a question?
If you have a question, feel free to contact our support team by creating a ticket from your account. If you don't have an account yet, you can contact us here.