In this article, we will explain why your transactional emails might be added to your backlog.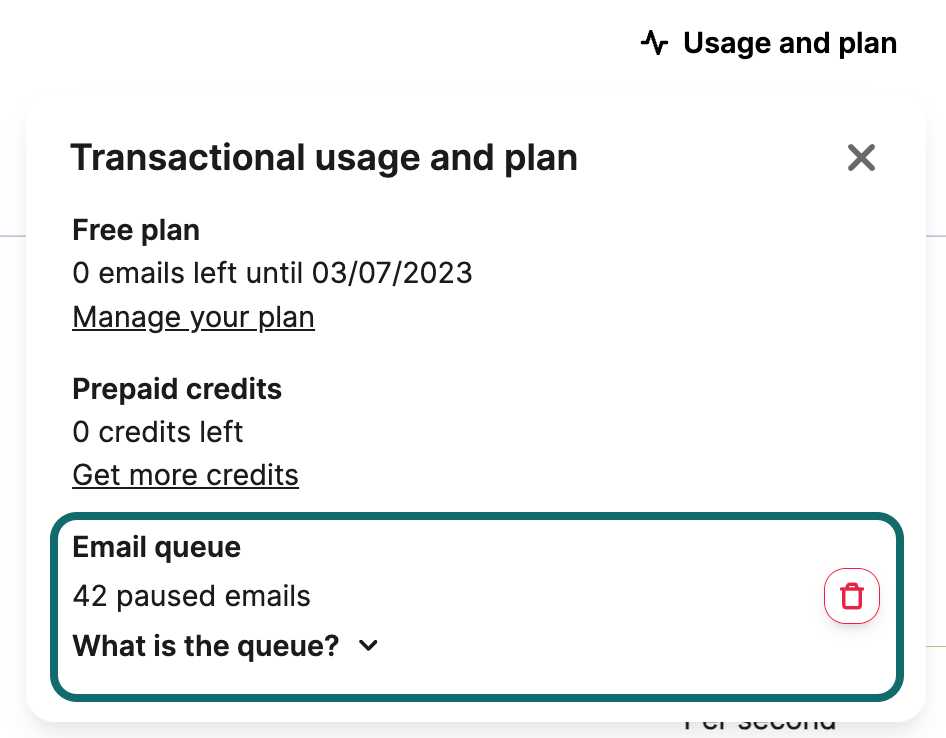 Why are emails added to my backlog?
On shared IPs (default configuration of your Brevo account), you might see emails going into the backlog if you've been suspended from sending Marketing emails and you use the Transactional platform to send them. To learn more about suspension, you can check our dedicated article: Why have my campaigns or account been suspended?.
Unlike on a shared IP, there is no hourly quota on a dedicated IP. However, emails sent from a dedicated IP can still be added to your backlog due to different reasons, such as:
You don't have enough email credits.
You can check the number of email credits left in your account on the Transactional page. If your email credits are too low, you can either upgrade your current plan or buy pre-paid email credits from the My Plan page.

The dedicated IP you are trying to send transactional emails from is not enabled to send transactional emails.
You can check if your dedicated IP is enabled to send transactional emails from the Dedicated IPs page. If it isn't, click More and select Use this IP for transactional emails.

❗️ Important
After 36 hours, the emails still in the backlog will start getting discarded.
❗️ Important
Since March 10th, 2023,
we have removed the transactional quota that limited the hourly sending bandwidth
according to your engagement metrics and sending volume. This will allow more flexibility on your side to send transactional emails.
🤔 Have a question?
If you have a question, feel free to contact our support team by creating a ticket from your account. If you don't have an account yet, you can contact us here.