Unlike the unsubscribe page which is only accessible from the footer of your email campaigns, the unsubscribe form is embedded in your website or any other hosted page. Visitors can fill out this form to stop receiving your email campaigns.
💡 Good to know
If you want to learn how to customize an unsubscribe page to integrate to your email campaigns, chek our dedicated article.
Good to know
You must create a custom unsubscribe form for each language in which you communicate with your customers. You will be able to share or embed your unsubscription form. To learn more, check our dedicated section Insert an unsubscribe link in your campaigns.
First, you can have a look at our video tutorial:
Step 1: Create and set up your custom unsubscribe form
To create an unsubscribe form that you can embed on a website or share through a hosted page:
Click Create a new unsubscription form

Give your unsubscription form a unique name to locate it easily within your unsubscription form listing, e.g. EN - My custom unsubscription form with EN for English.

Click Next to design your unsubscription form.
Step 2: Design your unsubscription form
The next step will be about designing and shaping your unsubscription form. Similarly to subscription forms, you can personalize your unsubscription form by modifying:
Background
Image
Buttons
Text fonts, sizes & colors
Instruction text (directing users on how to unsubscribe)
Success and error messages (confirming or not if a user has successfully unsubscribed)
Building your unsubscription form layout
In the unsubscription form builder, you will find a pre-made unsubscription form that you can customize. In the Build tab of the builder, you will find various Blocks, including Title, Text, Image, and Divider, that you can drag and drop according to your needs. Edit the default texts to match your brand's tone of voice.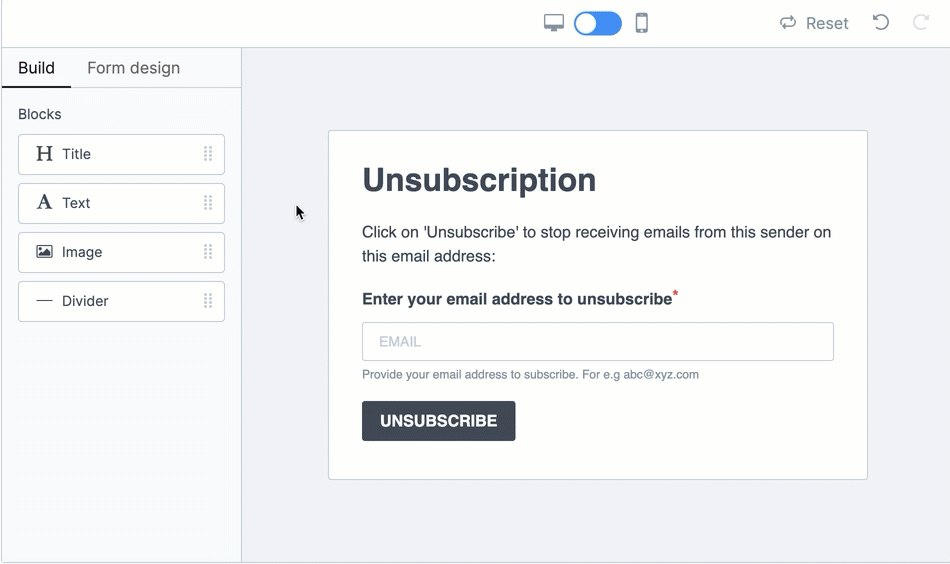 Designing your unsubscription form
To further customize your unsubscription form design, click on the Design tab of the builder. You will be able to change the design, colors, and fonts of your unsubscription form:
Text
From there you can change the formatting (font, color, size, etc.) of the text and titles as well as help text, labels, and placeholders.
Background
You can select a background color or background image.
Container
You can design the container (where you drag all the fields): alignment, borders, background, etc.
Button
You can select the color of the subscription button, its alignment, text font, etc.
Alerts
An example of an alert will appear when you click on this field. This will allow you to modify the design. There are Error state and Success state alerts. You will be able to edit these texts in the Messages step of your unsubscription form customization.
Spacing
You can choose between 3 types of spacing: tight, default, and spaced.
Review the mobile view
All Brevo forms are designed responsively. You can display your unsubscription form in mobile mode to preview how it will look on your contacts' devices. Simply toggle the view from desktop to mobile on the top of the editor.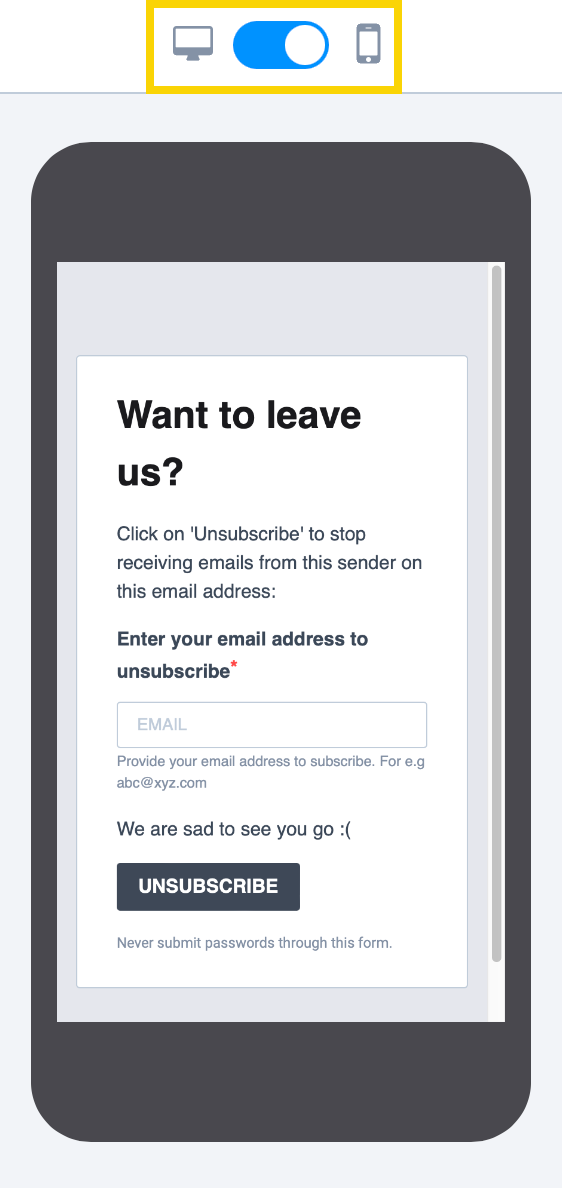 Once you are done designing your unsubscription form and reviewing its mobile version, click Next to choose the confirmation settings.
Step 3: Manage confirmation settings
Next, choose whether you want to redirect your contacts to a specific URL to confirm their unsubscription and/or send them a confirmation email after they clicked Unsubscribe. Click Next to customize state messages.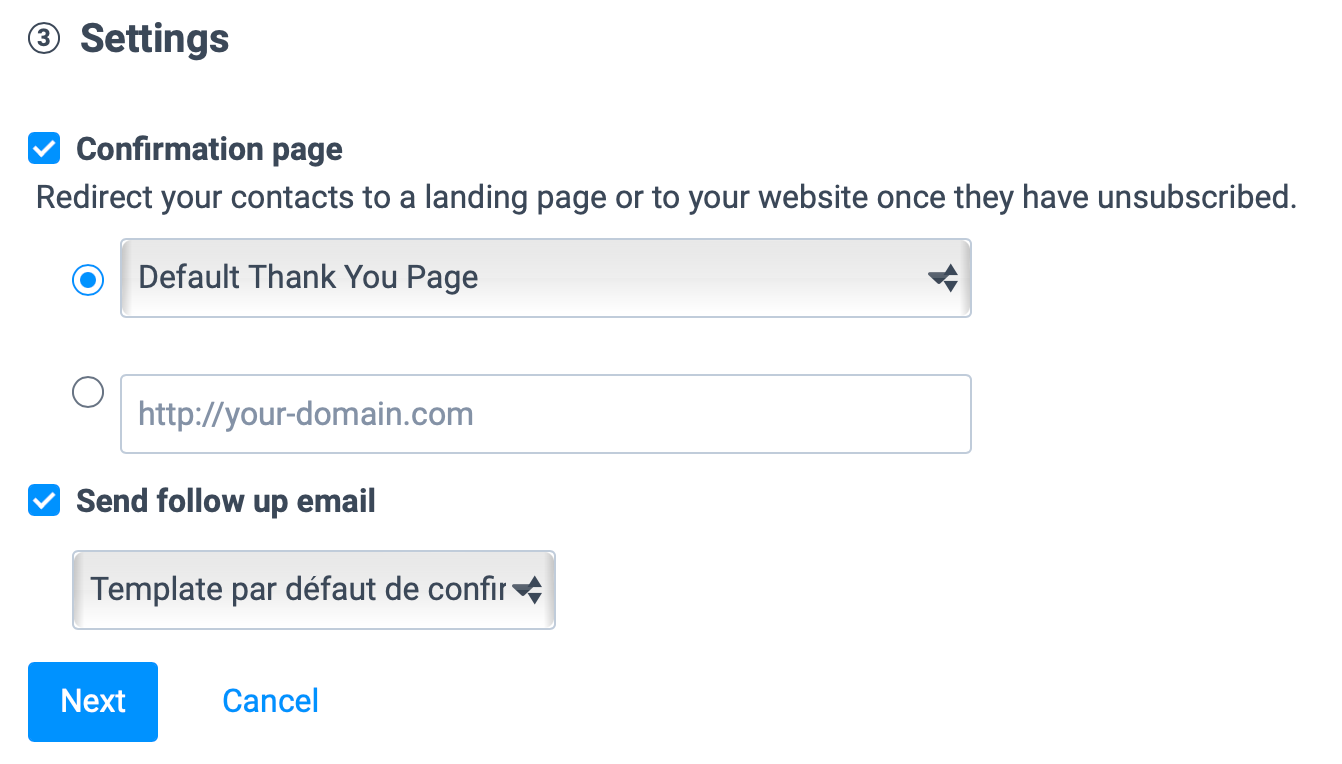 For example, if you choose the Confirmation page option, you could redirect your unsubscribed contacts to a landing page with links to your social media prompting them to follow you there. Indeed, most of the time customers unsubscribe to marketing emails to empty their inboxes but still want to follow your business updates.
Step 4: Customize the state messages
In this section, you can edit the default information messages in these cases:
Success message: successful unsubscription from your contact
Invalid user information: your contact details are invalid
Error message: system error occurs while processing the contact's unsubscription
Empty field: your contact forgot to fill in a field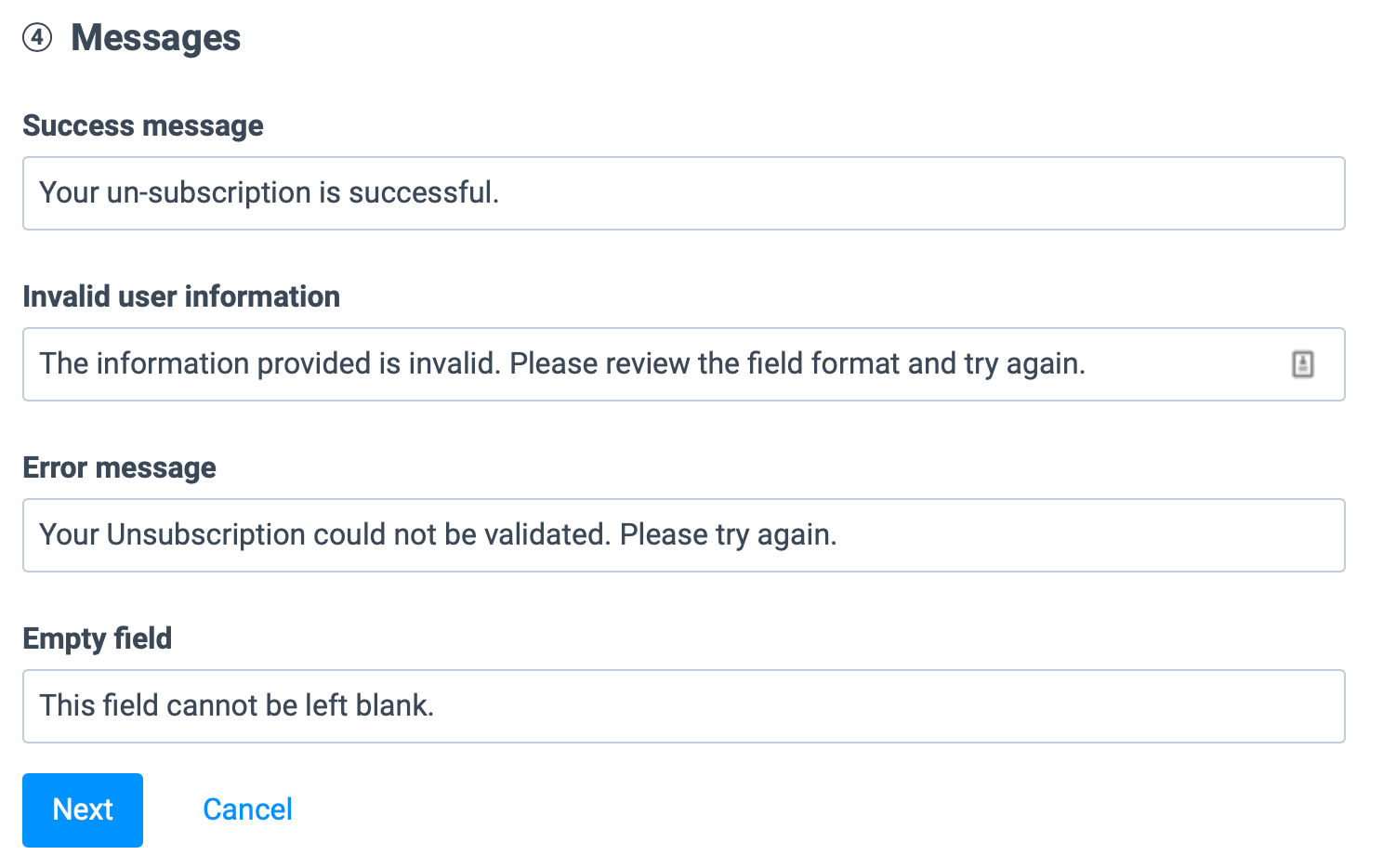 Click Next to finalize the creation of your unsubscription form.
Step 5: Finalize and share your unsubscription form
You can make as many custom unsubscribe forms as you want, and you will be able to share them on hosted pages or embed them on a website by copying the page URL or code available at this step of the unsubscribe form creation process. To learn more, check our dedicated section Share your form.
Once you are done, click Done to confirm the creation of your custom unsubscription form.
🤔 Have a question?
If you have a question, feel free to contact our support team by creating a ticket from your account. If you don't have an account yet, you can contact us here.