By connecting your Facebook page to Conversations you will be able to manage all your conversations in one place: Facebook Messenger, Instagram Direct, WhatsApp, and chat widget. Soon you will also be able to manage your Email (e.g. Gmail, Outlook) conversations.
Before you start 
Log into your Facebook account. 
Good to know
Conversations is not a community management tool: It allows you to manage your private messages and provide support to your customers.
The messages you send will be from your Facebook page and not from your personal Facebook account. You can exchange messages with your visitors only from your Facebook page.
The Conversations features below are not available in Facebook Messenger conversations: 
Set up the connection to your Facebook page
Click Connect a page. 

Ensure you read and understand the prerequisites to link your WhatsApp Business account to Brevo and click

Connect to Facebook.


From the Facebook connection page, click Continue as....

Choose the Facebook pages to connect to Conversations: check the box corresponding to the Facebook page you want to connect to Conversations and click Connect.

Congratulations! 🎉 Your Facebook page is now linked to Brevo!
Use Conversations to reply to Facebook Messenger messages 
Now that you've connected your Facebook page to Conversations, you can receive and answer your customers' Facebook Messenger messages directly in Conversations.
You can answer your customers' Facebook messenger messages in the same way as in the chat and use the Saved replies, Agents, and Groups features.
To access all your messages from the different platforms, go to Conversations > Conversations.
There are four ways of recognizing a Facebook Messenger message in Conversations:
Facebook Messenger logo next to the sender name.
Facebook Messenger logo next to the time the message was sent.
Facebook Messenger logo at the top left of the sender profile picture.
Facebook logo and page name under the Channel section.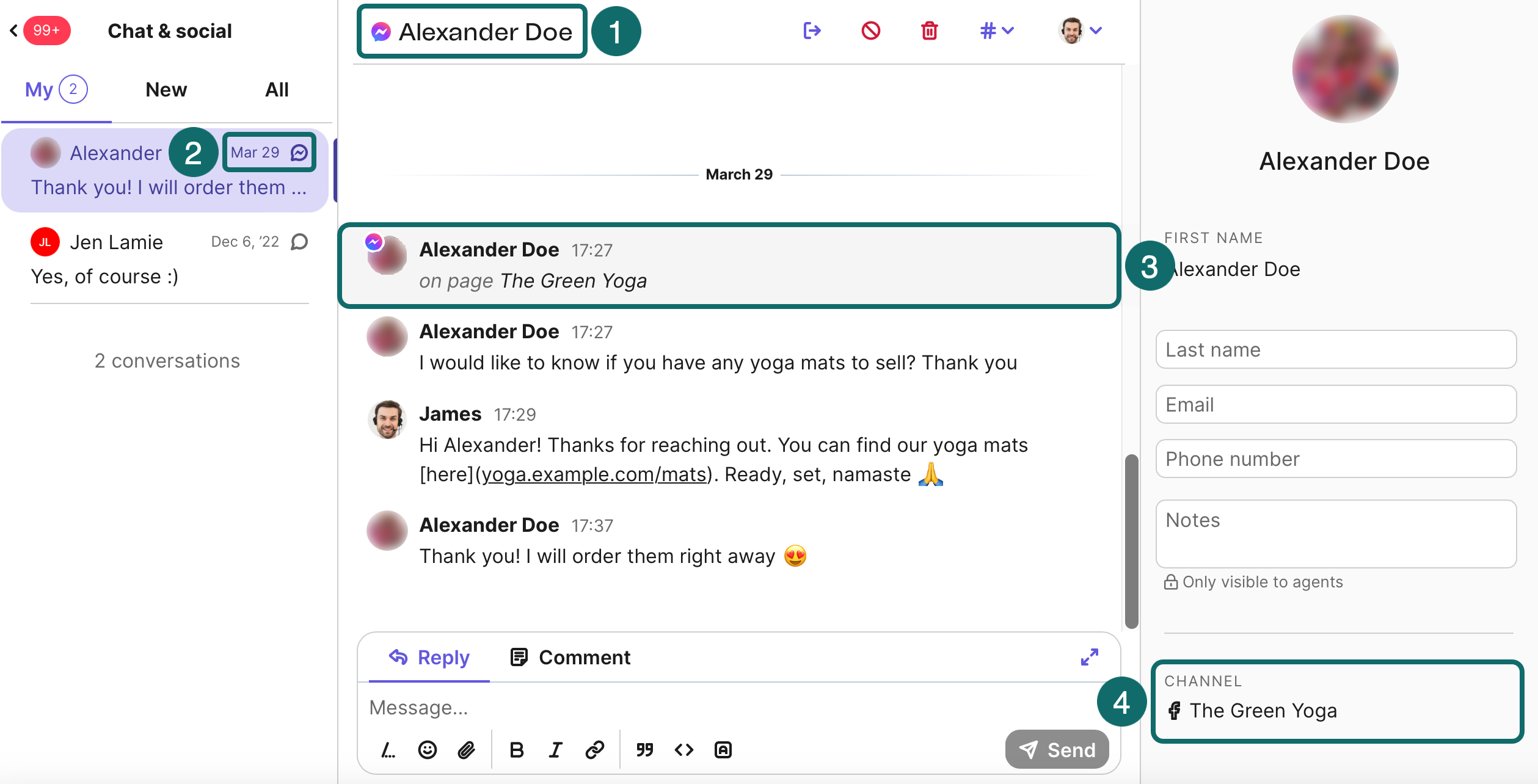 ⏩ What's next?
🤔 Have a question?
If you have a question, feel free to contact our support team by creating a ticket from your account. If you don't have an account yet, you can contact us here.
💬 Was this article helpful?
9 out of 11 found this helpful