💡 Good to know
This feature is available for
Business
and
BrevoPlus
offers.
What is the Best time option?
❗️ Important
Please note that the Best time feature is not available for A/B test email campaigns and for email campaigns for which you have enabled the Dedicated IP warm-up option.
Once you've completed all the campaign configuration steps, you are ready to test and send your campaign. You will find in the top-right corner of your screen the Schedule option. 

You will be able to choose between Send now, Schedule and Best time. Selecting Best time is the easiest way to maximize your campaign's results.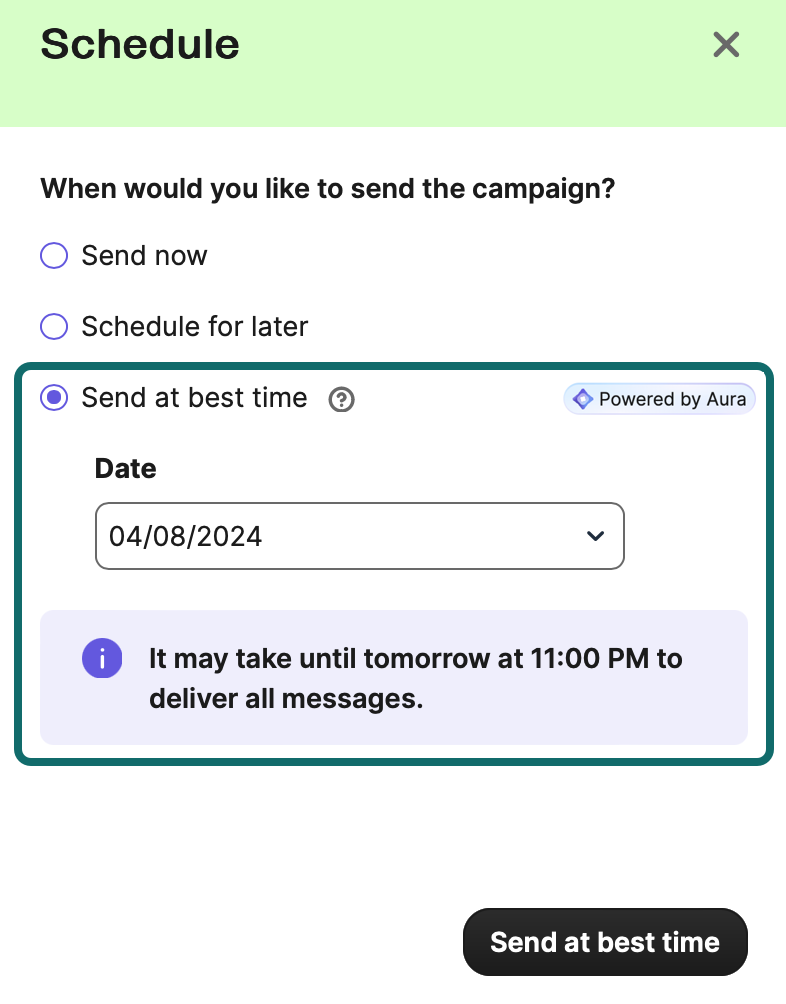 How does it work?
Simply choose the date on which to send your campaign. On that day, Brevo will use data science to determine when your contacts are most likely to engage and will send your emails at that time. All contacts will receive the email within 24 hours.
How does Brevo determine the best sending time?
The best send time is calculated for each individual recipient and optimized for the best open rates (vs. sending in bulk all at once).
If a particular contact has not received an email campaign from Brevo before, the optimal send time will be based on the opening times of previous campaigns. 
Brevo learns from each campaign that you send and the best time for each contact becomes more precise over time.
Can I use "Best time" to send a campaign on the current day?
Yes, you can but if the best time has passed for some contacts, the message will be sent on the next day within 24 hours.
For time sensitive campaigns such as webinars or event registrations, it is recommended to use the Send now or Schedule options.
Can I use "Best time" for my first Brevo campaign?
We recommend using the Send now or Schedule option when sending your first campaign. Brevo will learn from your campaign's engagement to determine the optimal send time for future campaigns.
💡 Good to know
To achieve the best results using the Best time option, we recommend to send your email to contacts who have opened one of your previous Brevo email.
Can I use "Best time" for my Marketing Automation emails?
Yes, when creating your Marketing Automation emails, you can select I want to choose when to send this email > Send at best time. A separate Marketing Automation log entry will be recorded when an email is set to be sent at best time, and another one when the message is actually sent.
To learn more about Marketing Automation workflows, check our dedicated article Creating a custom Automation workflow.
⏩ What's next?
🤔 Have a question?
If you have a question, feel free to contact our support team by creating a ticket from your account. If you don't have an account yet, you can contact us here.
💬 Was this article helpful?
31 out of 44 found this helpful