Once you have sent your Web push campaign, you can review it to gain insight and manage it to make your next campaigns even more impactful.
We've created a series of articles to help you get started with sending Web Push campaigns:
🔎 Review your Web push campaigns
From the Web push campaign dashboard, you can see all your saved, sent, or scheduled Web push campaigns. You can also see how many active opted-in subscribers you currently have.
Web push Campaigns statistics
From the dashboard, you can review some statistics relating to your campaigns.

Status shows your campaign's status: sent, scheduled, or draft.
Scheduled/Sent shows you the scheduled date for your campaign if you've decided to schedule it, or what date your campaign was sent.
Views is the number of times your Web push notification has been seen.
Clicks shows

the percentage of subscribers who clicked on your Web push notification out of the ones who saw it

. You can see the number of subscribers this represents when you hover over the percentage.
Web push contacts
As soon as someone allows their browser to subscribe to your Web push notifications when they visit your website, they will become anonymous contacts in your Brevo account. If an anonymous contact creates an account on your website or logs into an existing account, their details will automatically be synced from your website and they will no longer be anonymous. To learn more, check our dedicated article About anonymous contacts.

⚙️ Manage the settings of your Web push campaigns
The Web push Settings page allows you to access basic settings for your Web push notifications. 
To access Web push settings, go to Campaigns > Settings > Web push > Configure.
The Browser opt-in tab allows you to configure when you want to show your browser opt-in to clients visiting your website.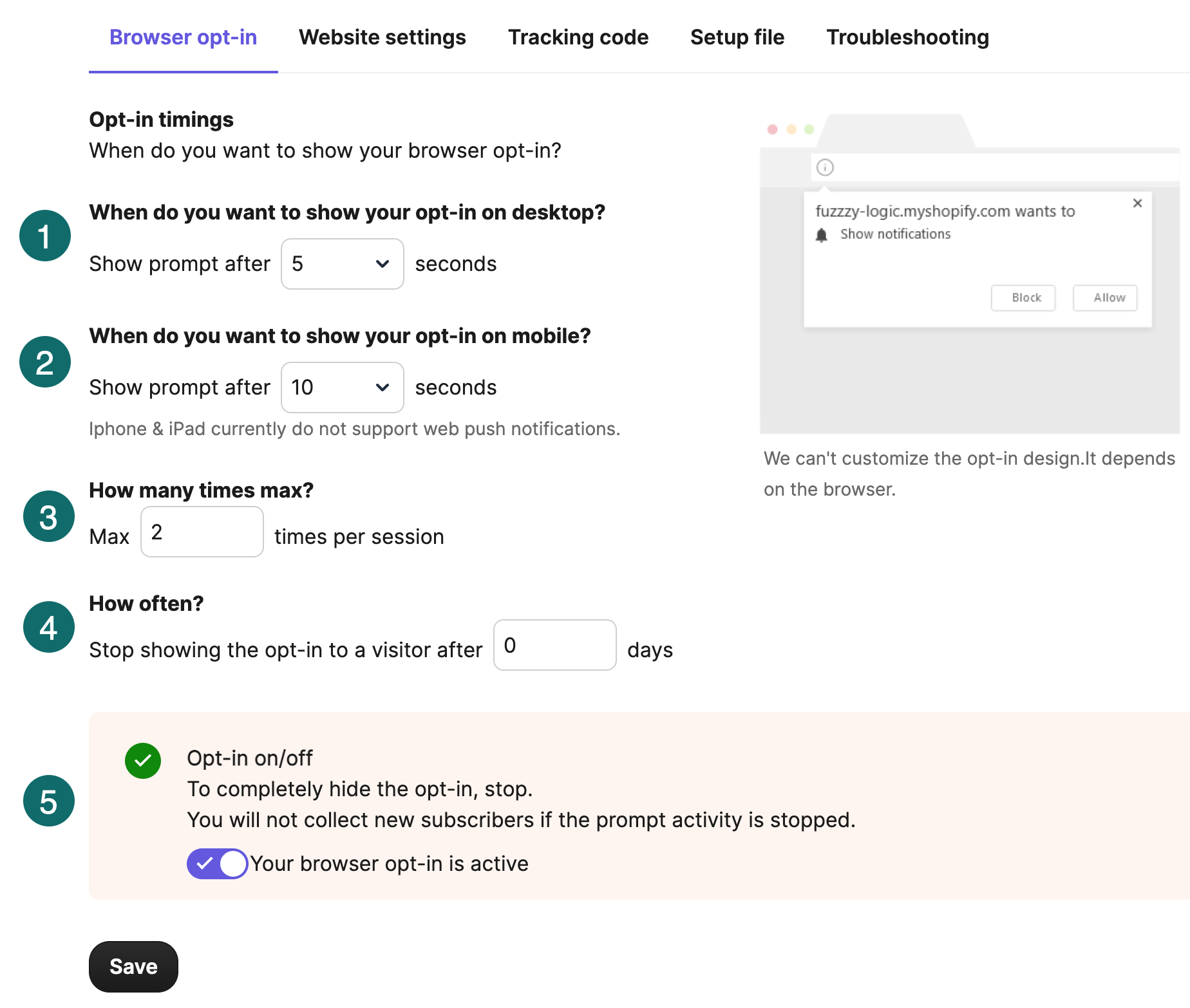 Choose after how long your opt-in will appear once your clients open your website on their desktop.


💡 Good to know

The opt-in

settings

configured

by default

are the ones we

recommend

for an efficient Web push campaign.

Choose after how long your opt-in will appear once your clients open your website on their mobile. 
Choose the maximum number of times your opt-in will appear to clients per session. 
Choose the number of days after which the opt-in should stop appearing if the client neither opted in nor out.
Activate/deactivate opt-in on your website. If you deactivate it, you won't receive new subscribers because no visitors will receive the browser opt-in.
The Website settings tab allows you to edit some details about the website you've already set up.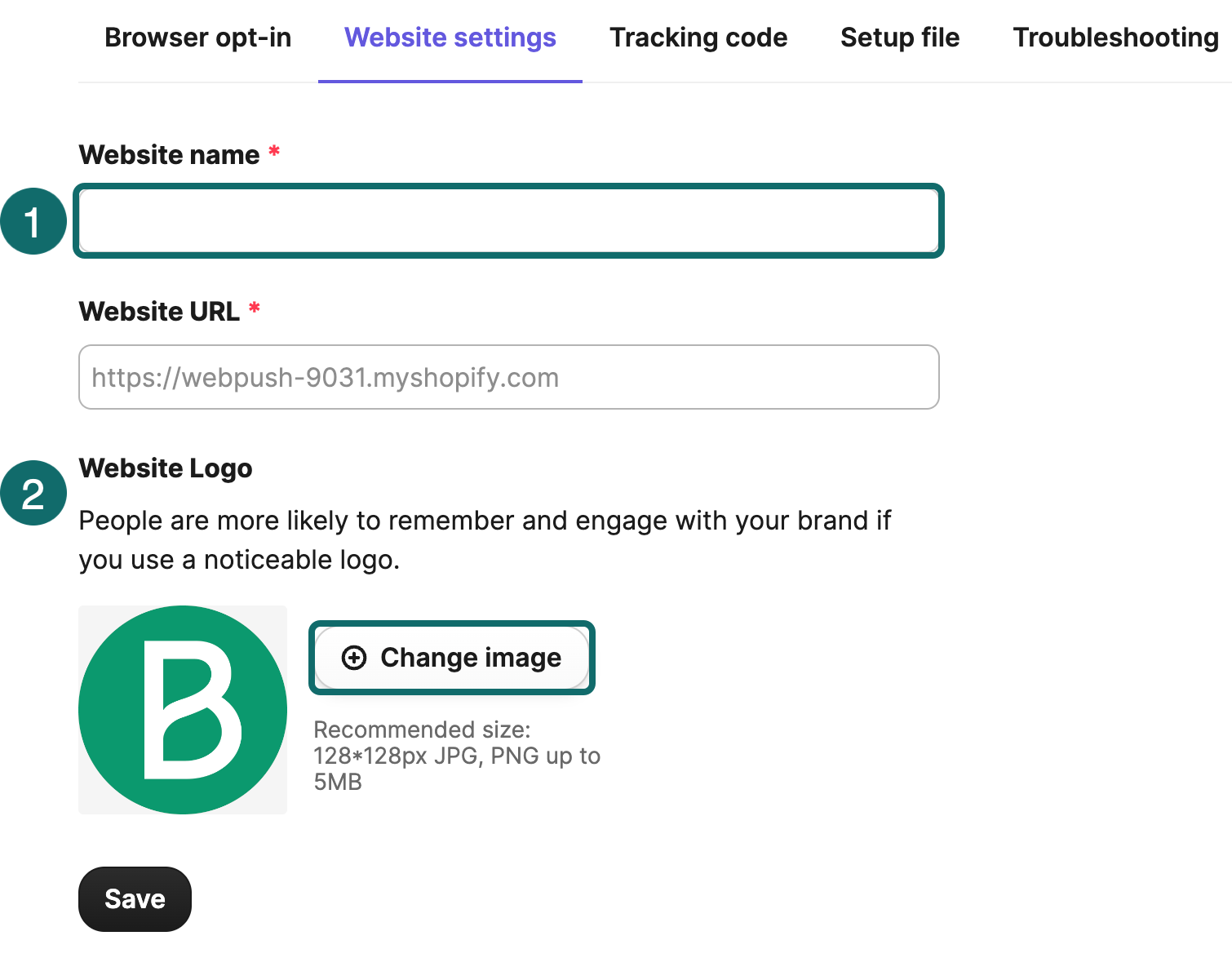 Edit your Website name.
Your Website name is only visible to you. 
Change your Website logo. 
Your website logo appears on the Web push notifications. You can edit it here or directly when you design your Web push campaign. To learn more about designing Web push campaigns, check our dedicated article Part 2: Create your Web push campaign.
💡 Good to know
You
cannot
change your
website URL
in the settings once you've set up Web push. If you really need to change it, you can
contact our support team
.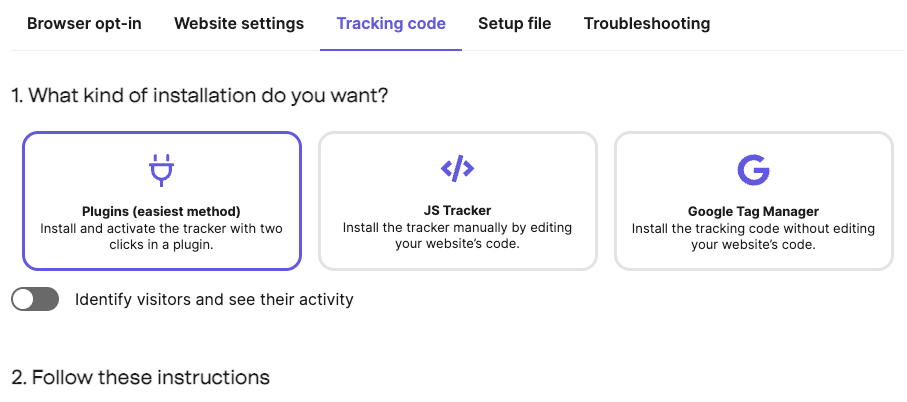 The Tracking code tab allows you to edit the tracker setups. It works the same way as during the Web push setup step.
⏩ What's next?
🤔 Have a question?
If you have a question, feel free to contact our support team by creating a ticket from your account. If you don't have an account yet, you can contact us here.
💬 Was this article helpful?
1 out of 3 found this helpful