When creating groups, you can let your visitors choose by themselves the group they want to be assigned to choosing from a list of groups. However, we recommend doing this only if the group names can easily be understood by your visitors, as technical group names might confuse your visitors and discourage them from contacting you.
If you prefer to assign visitors to a group yourself, check our dedicated article Assign visitors to a specific agent or group.
Good to know
Visitors will not be able to assign themselves to a group if:

You have less than two public groups,
A targeted chat or API already assigned them to a group automatically,
You have sent a targeted chat on behalf of an agent and the visitor replied to it.
Let your visitors assign themselves to a group
To allow your visitors to choose the group they want to be assigned to:
Activate the groups by pasting their corresponding codes before your chat widget snippet inside your website HTML header. To learn more, check our dedicated section Activate your group of agents.
Check the Ask visitors to select a group box from the Group settings.
Optional: Check the Add a "not sure" option to the list of groups box as some visitors may have multiple questions or may not be sure which team they can address.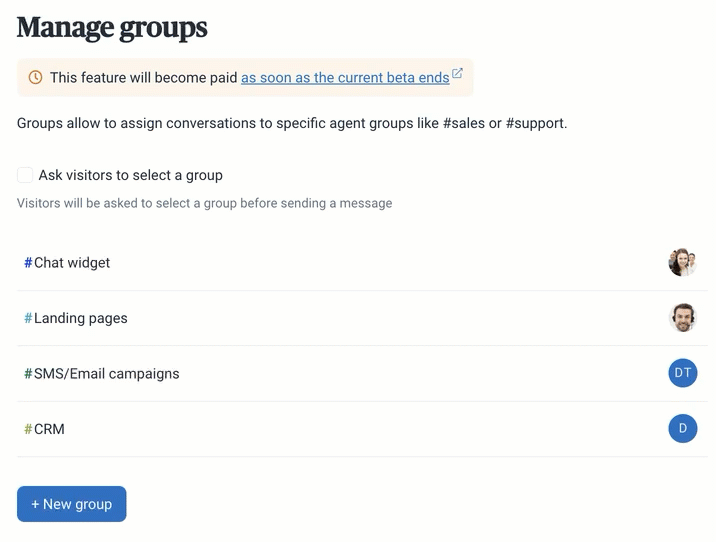 You can let your visitors know that they will have to choose the team they will talk to in a greeting message. Visitors will be asked to select a group after hitting send. If they do not select a group, their message won't be sent. Here is what choosing a group looks like on your visitors' side: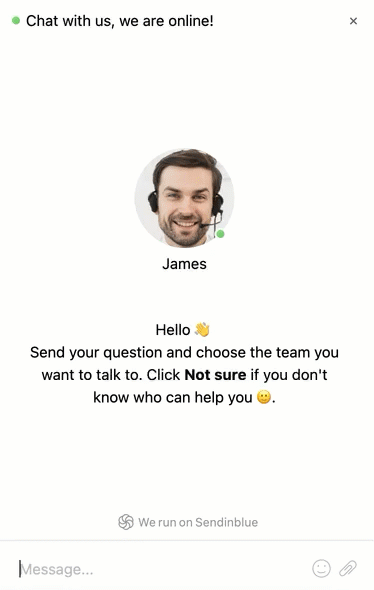 If your visitors choose a group, they will automatically be assigned to an online agent from this group. If they hit Not sure, they will be assigned to any online agent.
🤔 Have a question?
If you have a question, feel free to contact our support team by creating a ticket from your account. If you don't have an account yet, you can contact us here.