Meetings allows you to effortlessly schedule meetings with your clients, whether it's face-to-face, telephone call, or video call meetings. Thanks to a customizable booking page, your clients can easily book meetings with you. You can manage your availability to avoid double bookings and work around your personal schedule.
What's a booking page?
A booking page is a page where your clients can book meetings with you. 
On a booking page, you can find an icon, a profile picture, a description, and at least one meeting type. Meeting types are the types of meetings you offer to your clients.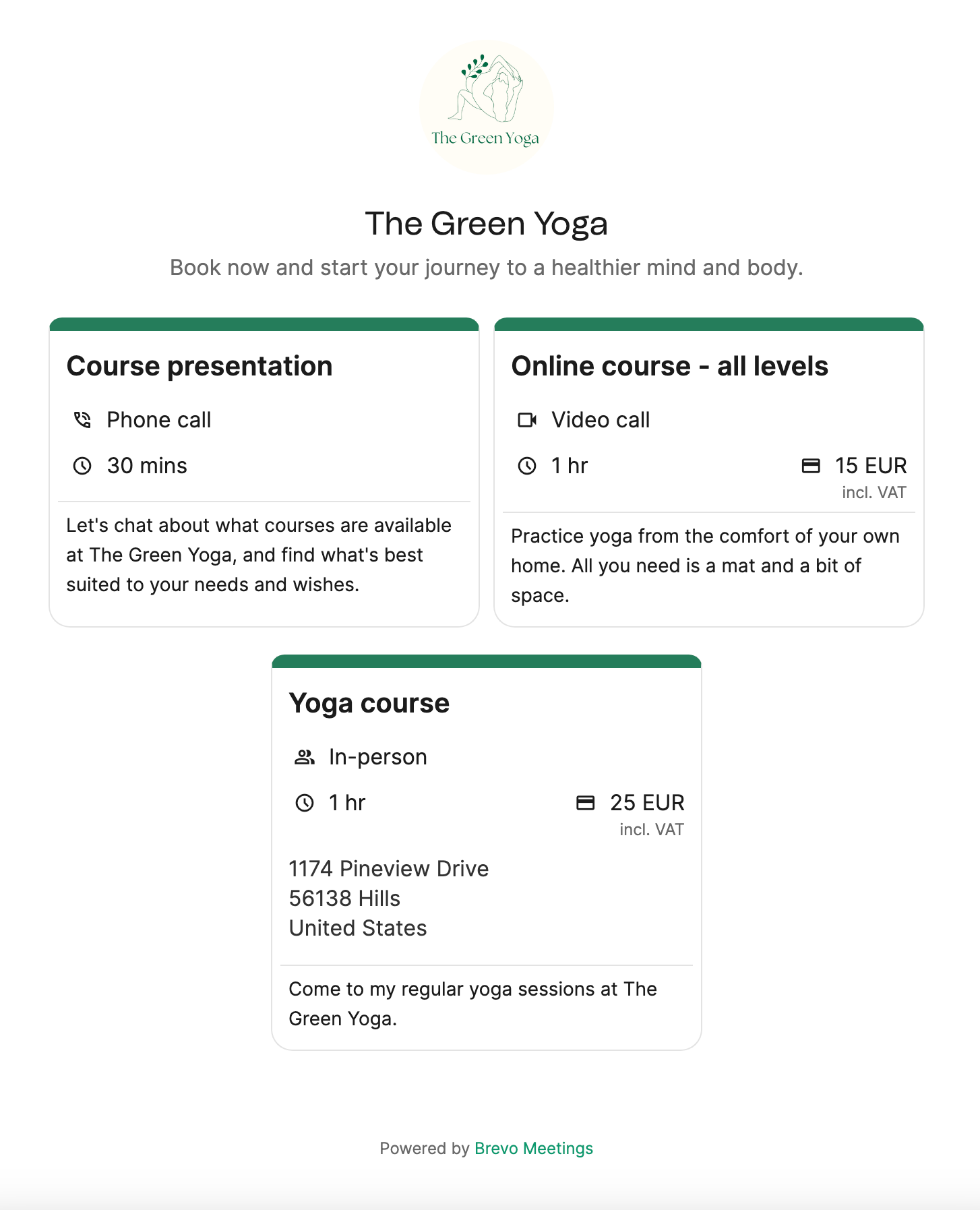 In the example above, the booking page was created by Abby Smith, a yoga teacher at The Green Yoga. The Meetings booking page is designed as simple and shows the logo of her company, along with a short description.
Three meeting types are available on the page: Course presentation, Online course - all levels, and Yoga course. Each meeting type is a service The Green Yoga offers to its clients. 
Course presentation was imagined as a free phone call meeting, set up to last 30 minutes. 
Online course - all levels is a charged video call meeting, set up to last 1 hour. 
Yoga course is a charged in-person meeting, set up to last 1 hour.
When clients of The Green Yoga access the booking page, all they need to do is to choose which meeting type they want to book, enter their information and book a slot for the meeting. The confirmation page will summarize all the necessary information for the meeting, and they will also receive an email with the same information.
Why use Meetings?
Meetings offer several benefits, such as:
Easy scheduling
No more going back and forth by email or by phone trying to find a time that suits both you and your clients. Meetings is easy to set up and use thanks to its user-friendly interface, saving both your and your clients' time.
Diversity of meeting types
You can offer your clients various types of meetings: face-to-face, phone calls, and video calls. This flexibility allows your clients to connect with you in the way that suits them best and can improve client satisfaction.
Professionalism
A well-designed booking page and efficient scheduling system enhance the way your clients perceive your business by providing a seamless experience.
Availability management
The ability to manage your availability is crucial in avoiding double bookings and ensuring your schedule aligns with your other professional or personal commitments. With Meetings, you can set your default availability, and mark unavailable times or exceptional availabilities to make sure your clients only book when you are available.
Reminder notifications
Meetings can send reminders to both you and your clients before scheduled meetings, ensuring everyone is prepared and avoiding missed meetings.
⏩ What's next?
🤔 Have a question?
If you have a question, feel free to contact our support team by creating a ticket from your account. If you don't have an account yet, you can contact us here.
💬 Was this article helpful?
2 out of 6 found this helpful