Choosing a sender for your newsletter is an important step. The sender is visible in your sent email, allowing your contacts to recognize you easily. This is what makes your recipients feel confident about opening your newsletter. Choosing a sender is a twofold process: selecting a name (e.g. Abby from The Green Yoga) and an email address (e.g. abby@thegreenyoga.com). You can create multiple senders.
There are several instances where you will be asked to create or choose a sender:
When you subscribe to Brevo, you must verify your account email address. Once it has been verified, it can be used as a sender. It cannot be deleted, but you can add new senders.
When you create an email campaign or template, you will be asked to choose a sender.
Before you start
If you purchased one or more dedicated IPs, you first need to associate your domain with your dedicated IP. To learn more, check our dedicated article Setting up a dedicated IP in Brevo.
We highly recommend verifying and authenticating your domain before creating a sender:
Create a sender
Click your account name.
Go to Senders & IP > Senders.
Click Add a sender.

Enter the From name and From email that will appear as the sender name and email in your recipient's mailbox. 


| | |
| --- | --- |
| Senders settings | Recipient's mailbox |
| | |

Optional: If you purchased dedicated IPs, select the dedicated IP(s) to which you want to associate with this sender by clicking Manage the pool of IPs. To learn more, check our dedicated article Use a pool of dedicated IPs.
Click Save. 
Depending on your situation: 


If you authenticated your domain, your sender is automatically verified. You don't need to do anything else!

If you did not verify your domain, you have to verify your sender to be able to use it. Simply enter the 6-digit code sent to your sender's email address.
Your list of senders is now updated with a new one! 🚀 

💡 Good to know
If you haven't verified or authenticated your domain yet, we highly recommend you do so.
Verifying your domain
allows you to approve new senders automatically, and
authenticating your domain
improves the deliverability of your emails.
Using your sender in your email campaigns
You can create as many senders as you want. You can choose which one you want to use when sending your email campaigns during the From step: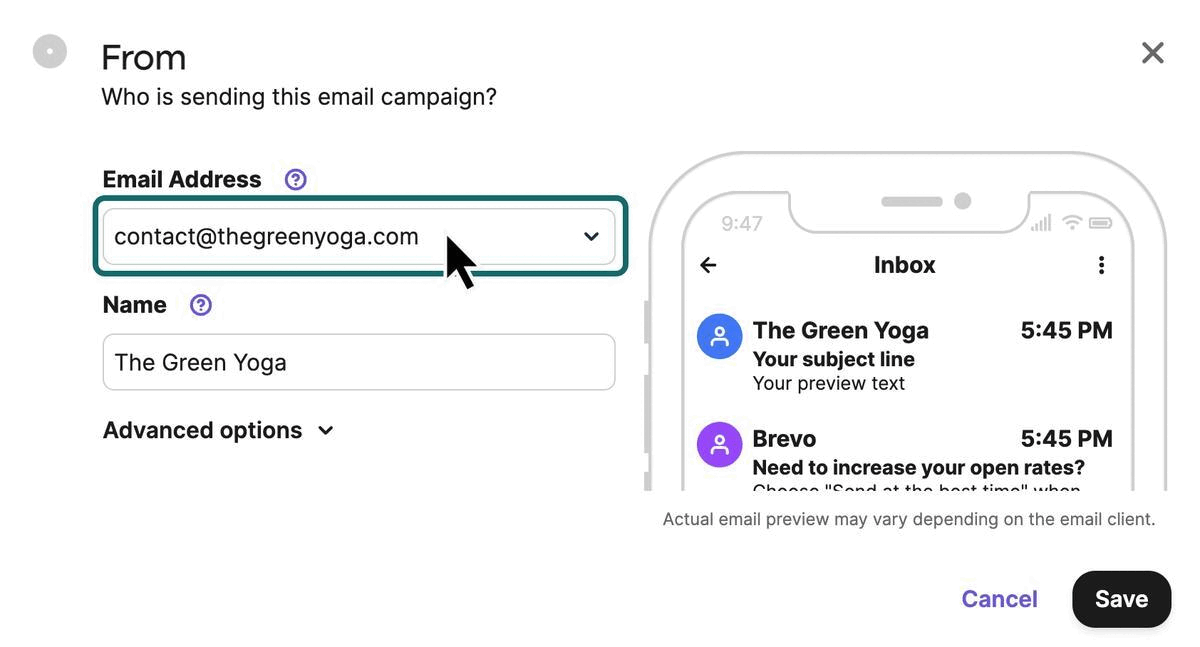 ⏩ What's next?
🤔 Have a question?
If you have a question, feel free to contact our support team by creating a ticket from your account. If you don't have an account yet, you can contact us here.
💬 Was this article helpful?
5 out of 17 found this helpful