💡 Good to know
Landing pages are available for
Business
and
BrevoPlus
plans.
In this article, we will explain how to host your landing page on a custom domain or subdomain.
We also offer detailed articles for some of the most common web hosts:
Good to know
Add your custom domain
❗️ Important
We highly recommend creating a new subdomain on your main domain that you will use to host your landing page. You can only host 1 landing page per subdomain, so we invite you to create 1 subdomain per landing page you want to host.
Go to Contacts > Landing pages.

Open the landing page that you want to host on your domain.

Click Launch.



If your landing page is not published yet, click Publish now. 


Once published, insert the URL of the custom domain where you want your landing page to be visible in the Custom Domains field.

After entering the URL, click Connect.
From here, you will be provided with step-by-step instructions to host your landing page on your domain.
Host your landing page on your domain or subdomain
1️⃣

Log into your web host

Once you are logged into your web host, go to the DNS management page.
2️⃣

Create two new DNS records

Create two DNS records as shown below:
On your main domain (in our example, yoursite.com), create a TXT record for @ with the value displayed on your Brevo account.
On your subdomain (in our example, pages.yoursite.com), create a CNAME record with cname.sibpages.com as a value.

3️⃣

Check your DNS status

Once you have created your TXT and CNAME records, your modifications will be applied immediately to the DNS zone. Please note that the propagation time can take up to 72 hours.

On your Brevo account, return to step 3 and click Click to check your DNS status. You will be redirected to a website that allows you to check your DNS propagation. Once your landing page is live on your URL, a green checkmark will appear on this page.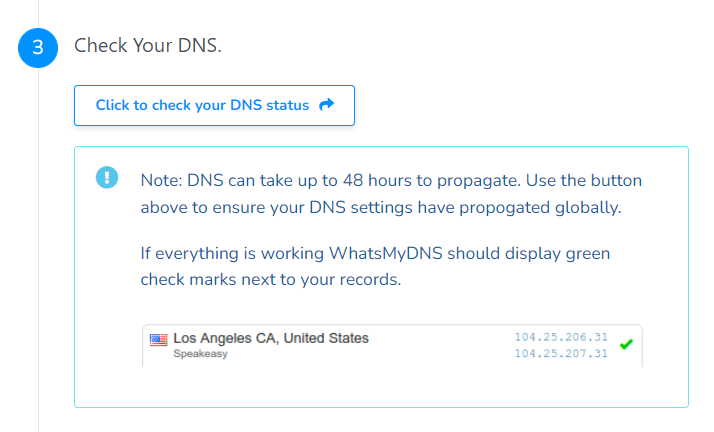 4️⃣

Verify DNS propagation

Once the DNS records have propagated, click Verify. 

You should see the message Successfully connected your domain and the domain name will be displayed as shown below. To unlink the domain, click Unlink.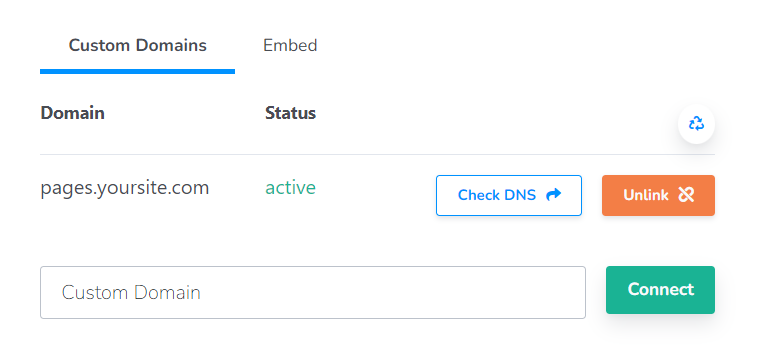 🤔 Have a question?
If you have a question, feel free to contact our support team by creating a ticket from your account. If you don't have an account yet, you can contact us here.