Every email campaign has a goal; it may be to generate more leads, to increase your subscriber count, or to convert more leads into paying customers. Hence, it is important to measure the effectiveness of your email campaigns with respect to these goals, so that you can tweak your email marketing strategy from time to time and improve your email marketing ROI.
With Brevo's conversion tracking feature, you can now see which email campaigns are bringing in the highest revenue or most paying customers and it's easier than you'd think! Conversions can be set up in less than a minute on Brevo.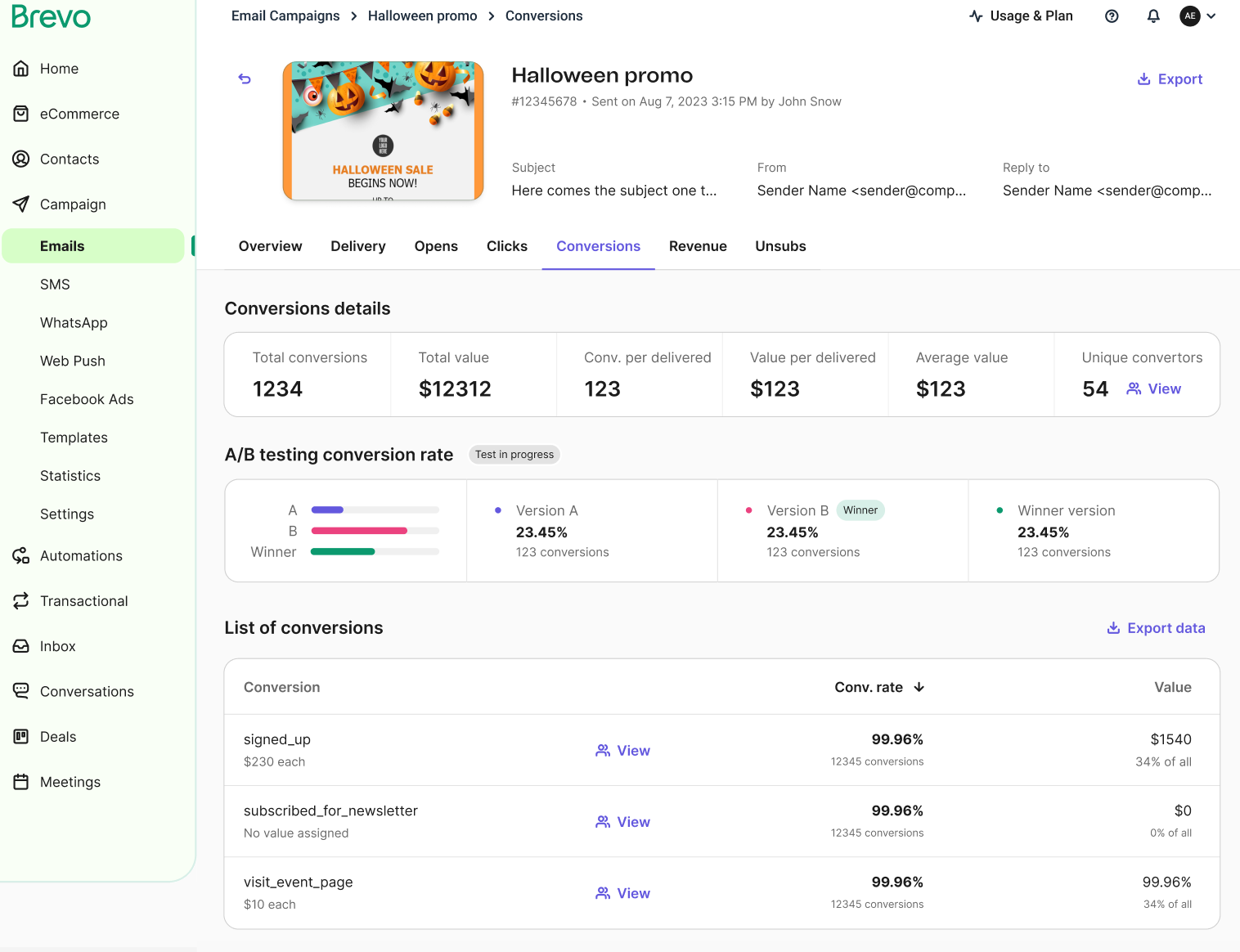 Step 1: Create a Conversion
A conversion is a desired action that you want your subscribers and visitors to perform on your website or app. Depending upon your business, a conversion might be a product purchase, signing up for a trial, scheduling a demo, booking an appointment, downloading an ebook, or visiting a form's completion "thank you" page.
Go to Campaigns > Settings.
Click Conversions.

Click Create your first conversion.

On the Create a Conversion page, configure the details for your conversion. Here is an overview of each field:

Conversion name: Give a name to your conversion to identify it within logs, statistics, and reports. Be descriptive with the conversion name.
Tracking via: Choose how you want to track this conversion. You can track a conversion via a marketing automation workflow or via an event initiated by the Brevo tracking script.
Default value: Provide a default revenue value for each conversion. If you know the average transaction value for your customer purchases, you can use it as a default value. The default value can be 0 as well, for cases where you only want to measure the number of conversions & not revenue, e.g. # of signups, # of demos scheduled, etc.

Step 2: Track Conversions
Conversions on Brevo can be tracked either via events initiated by the tracking script installed on your website or via marketing automation workflows.
Tracking via Event
Please consider these points to track a conversion via an event:
You need to have the Brevo tracker installed on your website. You can easily install the tracker by copy-pasting the code on your website or you can use one of our plugins.
Make sure that you've added the corresponding track event, and send the same to track conversions. Please follow the technical documentation here to create your track events.
💡 Good to know
If a developer assisted with the setup of your website, please share these instructions with your developer and request the creation of these events (typically takes less than one hour).
Choose the Event option on the Tracking via field when creating a conversion. Make sure that you have installed the tracker on your website and created the corresponding conversion track events.
Verify the tracker by clicking on the button with the same name. Provide the Event name & the Revenue tag that you want to trigger the conversion. Default value will be used to define the conversion revenue value when the Revenue param is not found on the event properties.

Tracking via marketing automation workflow
Please consider these rules to track a conversion via marketing automation workflows:
Make sure that you've selected marketing automation workflow as the Tracking via option when creating the conversion.
Conversions will be recorded only for those contacts that reach the Record a Conversion step inside the workflow.
Add the Record a Conversion step to your workflows
Go to Automation > Workflows and click Create a new workflow or edit an existing workflow.
Click the (+) button anywhere on the workflow below the start point to add a new step.
Select the Record a Conversion step under actions.

Choose the Conversion that you want to record from a list of conversions created to be tracked via marketing automation workflows on your account.

You can also create a new conversion from here by clicking on the Create a new conversion link just below the conversions drop-down list. When a conversion is created during this step, it will be automatically configured to track via marketing automation workflows.
For Conversion value, you can choose one value out of these three options:


Default value: Provided by you at the time of creating the conversion.
Custom value: To be defined by you for this workflow. It will overwrite the default value and all conversions recorded from this workflow will have this value as revenue for each conversion. It can also be 0.
Advanced value: This value will be dynamically provided for each conversion by an event. You have to define the Event name and the Revenue parameter that will define the value in the event properties of this event.




When using Advanced value for the conversion value, if the corresponding event is not found for a contact who reaches the Record a Conversion step on the workflow, you can choose to record the conversion with the default value by ticking the corresponding checkbox below the Revenue tag field.
Step 3: Attribute conversions
When a conversion is recorded for a contact, either via event or marketing automation workflow, the credit for this conversion goes to the email campaign that the contact last clicked on. Furthermore, if your email campaign contains multiple links and the contact clicked on all of them, then we will attribute the conversion to the link that the contact clicked on last.
In a case where a conversion is recorded for a contact who has never clicked on any link of any of your email campaigns, we will attribute the conversion to No Campaign, which essentially means that the conversion occurred due to some other marketing channel than marketing emails.
Step 4: Measure conversion data
To view the stats of all of your conversions, go to Campaigns > Statistics.
Click the Conversions tab.

You will be able to compare conversions against each other in terms of the number of conversions recorded and total revenue generated by each of them.
If you wish to view and compare campaign-specific conversion stats, go to the Campaign listing page, where you can see a column for Conversions against each of your sent campaigns.

You can click any of the sent campaign names to see the detailed campaign report. If there are conversions attributed to this campaign, you will be able to see the campaign level conversion stats on the Summary tab.
⏩ What's next?
🤔 Have a question?
If you have a question, feel free to contact our support team by creating a ticket from your account. If you don't have an account yet, you can contact us here.
💬 Was this article helpful?
0 out of 4 found this helpful