In this article, we will explain how to use and send an email template that you have created in Brevo.
To learn more about the differences between the email templates used for email campaigns, Marketing Automation workflows, and transactional emails, read What are email templates in Brevo?.
Use a template for an email campaign
You can send an email campaign using an email template by creating a new campaign and selecting a saved email template or the design of a recent email campaign you created.
To send an email campaign using an email template:
Go to Campaigns > Email.
Click Create a new campaign.
Setup your campaign by adding its name, sender, etc.
At the Design step of the campaign creation, click Campaigns to reuse a recent email design, or My templates to use a saved email template.
Select the email template you want to use.

If necessary, edit the design of your email template.
Once you are done, choose your recipients and schedule the sending of your email campaign.
Use a template in a Marketing Automation workflow
When selecting the Send an email to a contact action in a Marketing Automation workflow, you can choose an email template you have already created or create a new one.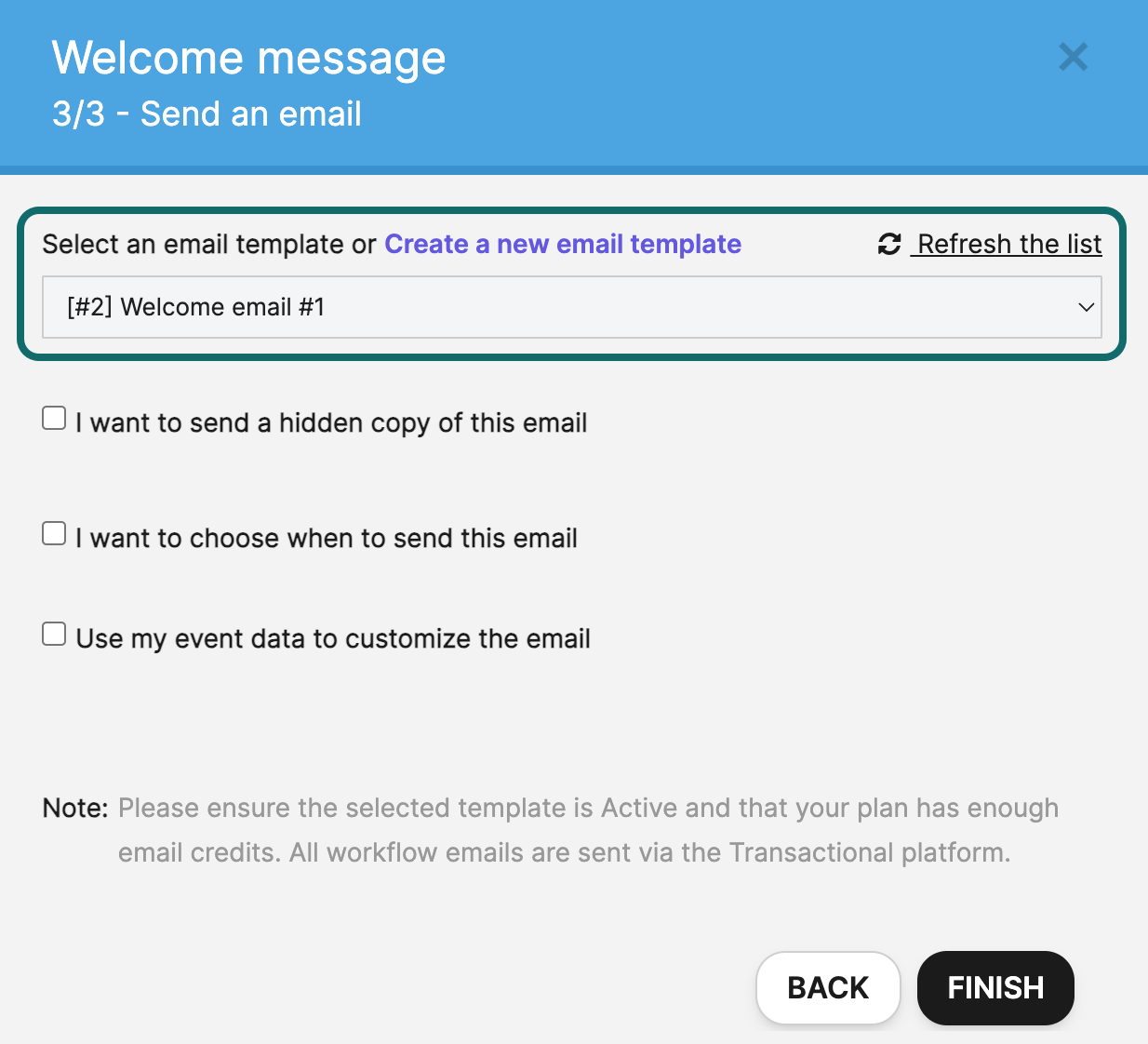 To learn how to create a Marketing Automation, read Creating a custom Marketing Automation workflow.
Use a template for a transactional email
You can trigger the sending of a transactional email template using one of the following methods:
Via the SMTP API (v3) by using the Send a transactional email call.
Via SMTP relay, a method used by many popular plugins to deliver emails created by the plugin using our SMTP platform.
When creating a new campaign by selecting the transactional email template during the Design step of the campaign creation.
💡 Good to know
To locate your API v3 key and SMTP credentials, click your name at the upper-right side of the screen, select
SMTP & API
, and go to the
SMTP
tab.
⏩ What's next?
🤔 Have a question?
If you have a question, feel free to contact our support team by creating a ticket from your account. If you don't have an account yet, you can contact us here.
💬 Was this article helpful?
1 out of 7 found this helpful