Whether you are a marketing agency managing various clients, a large organization with multiple teams, or a business owner requiring separate access for developers working on integration, with Brevo's Corporate solution you can collaborate with your team by letting them access their own separate sub-accounts, whilst still managing their activities from your Corporate account.
What is the Corporate solution and how can it benefit my business?
The Corporate solution is available to Brevo's BrevoPlus clients and allows you to:
easily centralize and manage all your entities with a separate dashboard and contact lists, as well as a unique API key for each sub-account.
manage multiple sub-accounts from a single Corporate account, providing autonomy and consistency across your business units.
use separate or common dedicated IPs for your sub-accounts for personalized management of deliverability.
define users and permissions at the sub-accounts level.
securely authenticate all users using Single Sign-On (SSO).
receive a single invoice for all sub-accounts (with the option t

o invoice sub-accounts separately if that's what you prefer).
What is a Corporate account?
A Corporate account consists of one main admin page from where you can: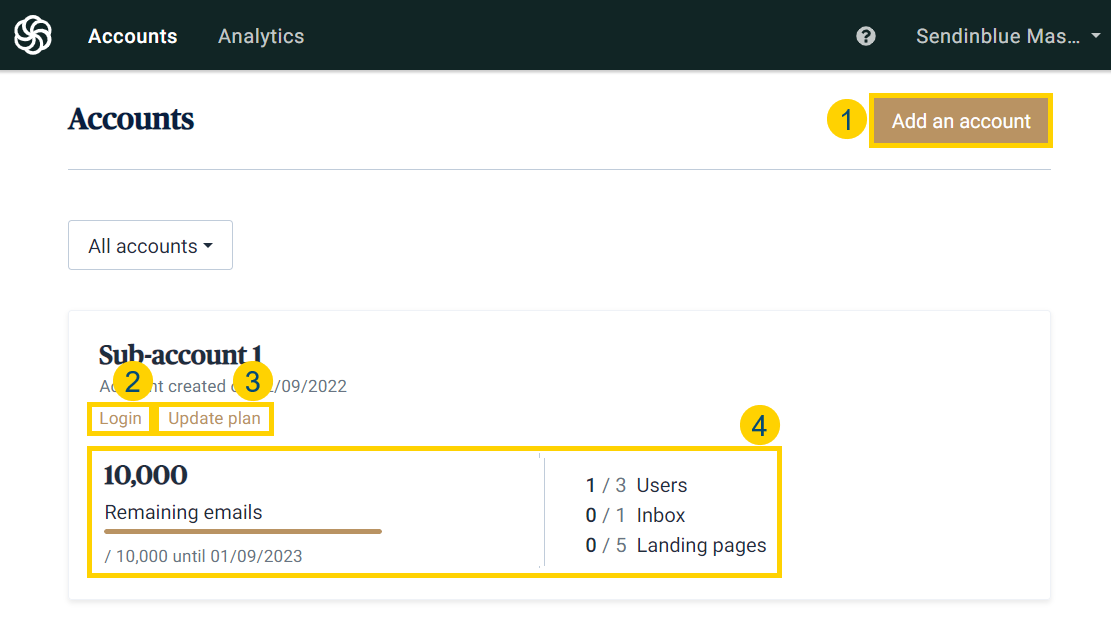 Create new sub-accounts.
Access your sub-accounts.
Allocate monthly credits to your sub-accounts (emails, users, inboxes, and landing pages).
View how many credits are left in your sub-accounts.
Monitor the performances of your sub-accounts with customized dashboards.
To learn how to create sub-accounts and allocate monthly credits, check our dedicated article Create sub-accounts and allocate monthly credits from your Corporate account.
What is a sub-account?
A sub-account is just like any other Brevo account, apart from the fact that it is linked to a Corporate account, along with other sub-accounts. Sub-accounts are completely independent of each other.
From your sub-accounts, you can:
Manage contacts separately.
Segment contacts.
Create email campaigns with our Drag & Drop editor.
Send transactional emails via SMTP or API.
Send SMS campaigns

Leverage Marketing Automation.
Send Web push notifications.
Track reports and statistics
Manage multiple senders.
Benefit from dedicated IP management and warm-up process.
And much more!
🤔 Have a question?
If you have a question, feel free to contact our support team by creating a ticket from your account. If you don't have an account yet, you can contact us here.