💲

How much do SMS credits cost?

Brevo doesn't offer an SMS plan. To send SMS messages, you need to buy SMS credits, which must be purchased in packs of 100 and never expire.

The cost to send one SMS varies based on the recipient's country. To send one SMS, you need to use multiple credits and the exact number depends on two factors:
The country of the recipient.
The number of characters in the SMS.
You can calculate the number of credits required to send your SMS messages directly from the My Plan > SMS & WhatsApp messages page.
👛 How can I p

urchase SMS credits?

You can purchase SMS credits directly from the SMS pricing calculator available from your Brevo account:
Go to the SMS pricing calculator.
Enter the number of SMS messages you would like to send.
Select the country in which you want to send SMS messages. An estimate of the cost is available under Cost.
Once you're done, click Checkout.

Enter your billing information and payment method.
Click Pay [amount].
💡 Good to know
Note that once the payment of your credits has been validated,
it may take up to 48 hours for the SMS credits to be added to your account
.
🗺️ What are the s

upported countries for SMS?

With Brevo, you can send SMS messages to recipients in over 200 countries. To view the full list of available countries, check our SMS pricing calculator.

💡 Good to know

If you want to send SMS messages to a country that is not on the list,

contact our support team

by creating a ticket from your account.
⚖️

Where can I check my SMS credit balance?

You can check how many SMS credits are left on your Brevo account at the bottom-left side of your screen.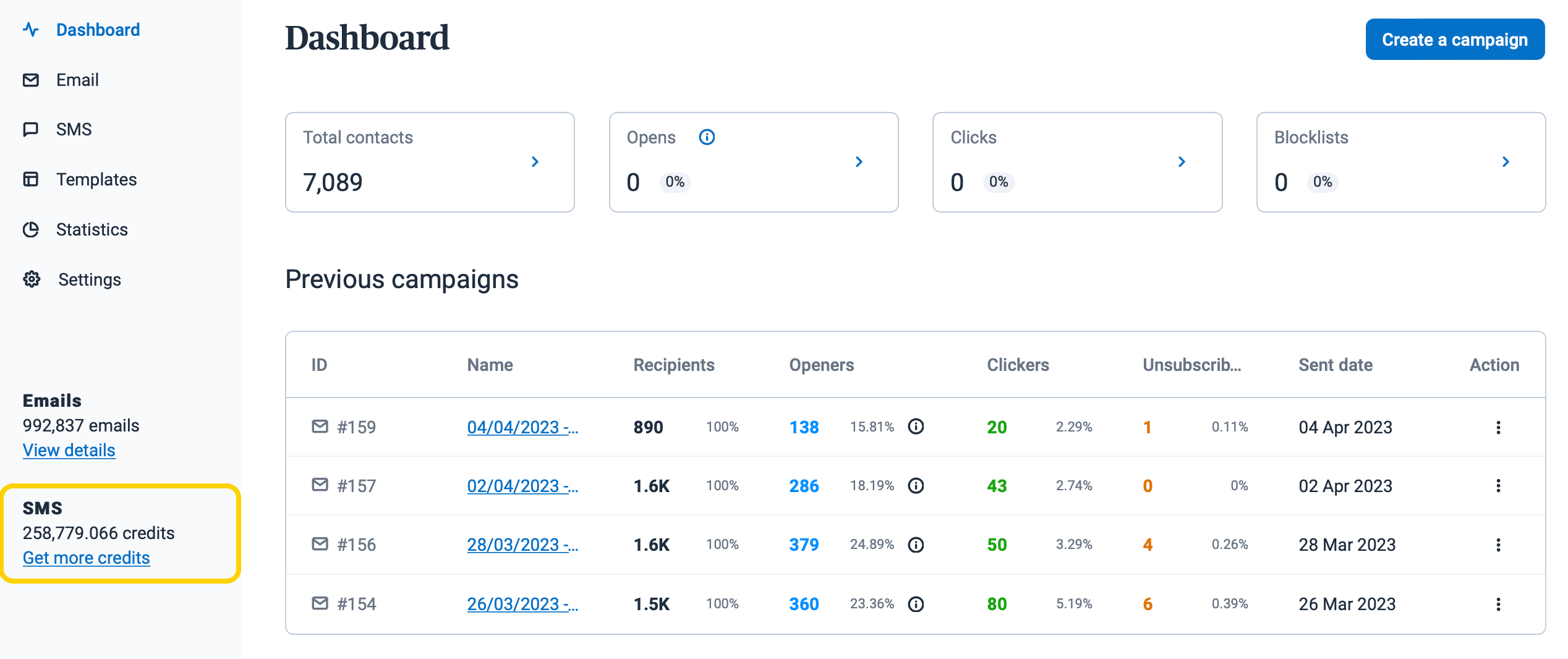 🤔 Have a question?
If you have a question, feel free to contact our support team by creating a ticket from your account. If you don't have an account yet, you can contact us here.