In this article, we will explain what are the workflow templates available in Brevo and how to use them.
Brevo Automation enables you to easily create the perfect marketing workflow in just a few clicks. While you can create a custom workflow by combining multiple entry points, conditions and actions, you can also start from one of our pre-made templates.
Before you start
If this is your first time creating an Automation workflow, learn more about the different elements involved in the creation of a workflow:
To learn how to set up your own custom workflow, read Creating a custom Marketing Automation workflow.
Create a new workflow
To create a new workflow, go to Automation and click Create a workflow. You can then choose between creating a custom workflow or using one of our workflow templates: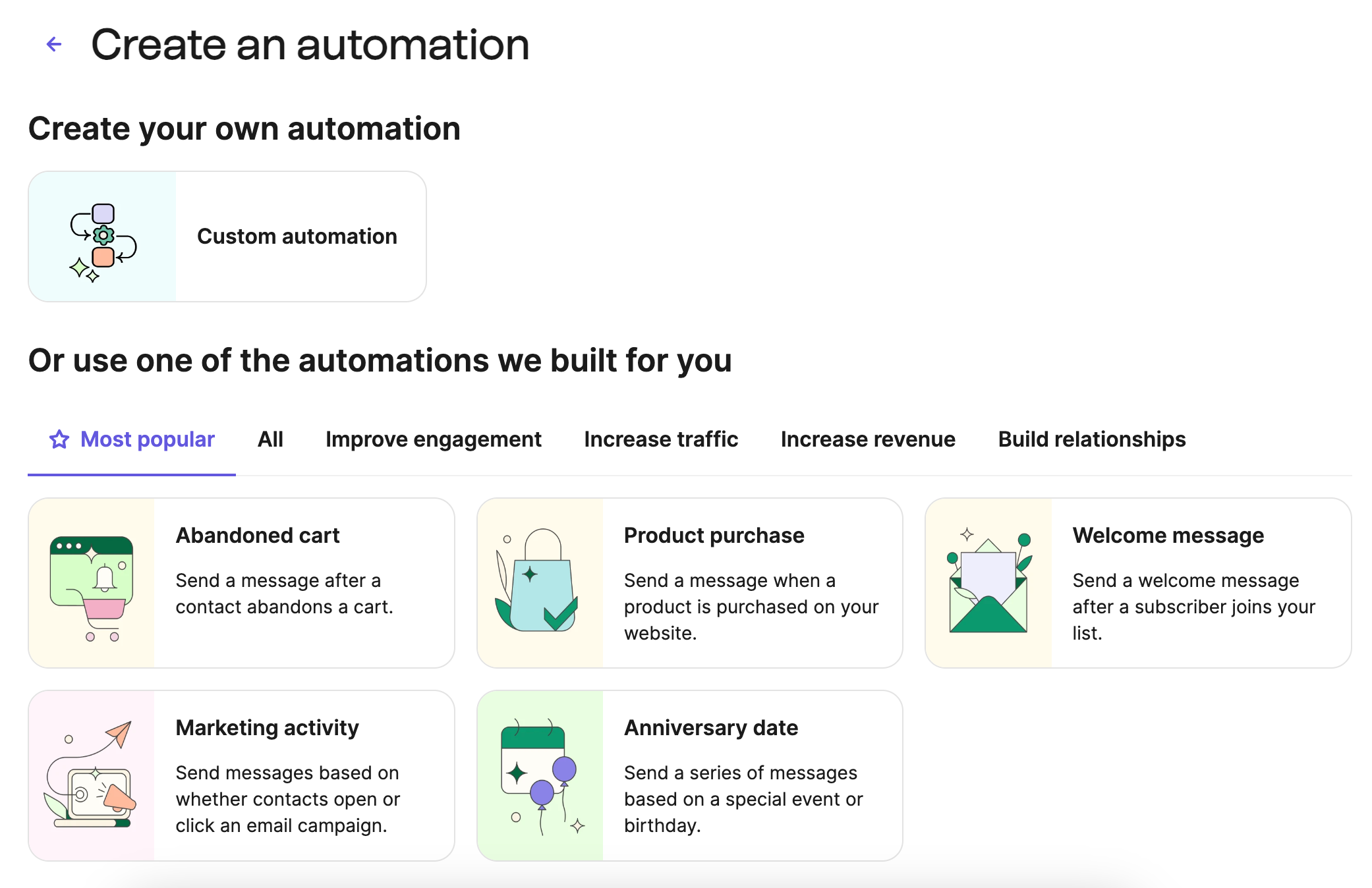 Abandoned Cart

Abandoned Cart emails are a must for any ecommerce site. Why? Because over 75% of people abandon their shopping carts online, which means that 3 out of every 4 people who add something to their cart leave without actually purchasing your products.
By setting up an Abandoned Cart workflow, when a customer leaves a product in their shopping cart, you can encourage them to complete their purchase by sending a personalized email reminding them about items left in their online cart, along with a link to take them back to complete their purchase.
To learn how to set up your Abandoned Cart workflow, check out our series of dedicated articles.
Product Purchase

Sending an email to your customers after they purchase a product on your website can be useful to thank them, collect their feedback regarding their shopping experience, or offer them a promo code for their next purchase. This simple email automation can help you improve your service or product, and build a stronger relationship with your customers.
To learn how to set up your Product Purchase workflow, read Send an email to your customers after their purchase.
Welcome Message

An effective welcome email is a must for subscribers who sign up to content like your newsletter. This simple email automation example shows your audience you care and lays the foundation for a lasting relationship.
You can use welcome workflows to elaborate on your value proposition, set expectations for your subscribers, welcome new subscribers to your community, or surprise subscribers with a bonus.
To learn how to set up your Welcome Message workflow, read Send a welcome email to your new contacts.
Marketing Activity

Regularly sending rewards to your customers, such as a promo code or a free ebook, when they interact with your email campaigns can help insure they stay engaged and continue to invest in your business. For example, if they click a link in an email to view one of your products, sending them a promo code may encourage them to purchase it.
To learn how to set up your Marketing Activity workflow, read Marketing Activity: send an email when a contact interacts with your email campaign.
Anniversary Date

Show your customers you care about them by automatically sending them a special discount for their birthday or the anniversary of when they became a customer.
Personalized anniversary emails are a great way to build loyalty and keep your brand top of mind. Plus they give customers an incentive to buy from your company again or maintain their subscription.
To learn how to set up your Anniversary Date workflow, read Anniversary Date: send a birthday email to your contacts.
Website Event

Be ahead of your contacts by sending them an email after they perform a specific action on your website. You can use this workflow to automatically follow up with contacts who click the "Contact" button on your website or who add a specific item to their cart.
To learn how to set up your Website Event workflow, read Website Event: send an email to contacts who perform a specific action on your website.
Transactional Activity

Help your contacts perform important actions or improve your processes by sending an email based on whether a contact opens or clicks one of your transactional emails. For example, you can give them additional information on a certain process, such as how to update their credit card information, or ask for feedback on how the process went.
To learn how to set up your Transactional Activity workflow, read Transactional Activity: send an email when a contact interacts with your transactional email.
Page Visit

Improve your website traffic and potentially increase your revenues by sending an email to contacts who visited a specific page on your website and reminding them of their interest, offering them a discount code, or giving them additional information.
To learn how to set up your Page Visit workflow, read Page visit: send an email to contacts who visit your website.
🤔 Have a question?
If you have a question, feel free to contact our support team by creating a ticket from your account. If you don't have an account yet, you can contact us here.
💬 Was this article helpful?
3 out of 4 found this helpful