With Brevo, you can send WhatsApp messages to recipients in many countries using our WhatsApp credit system with easy setup and simple pricing: no setup or license fees, no expiration date, and a pay-as-you-go offer for more flexibility. 
🗺️ What are the s

upported countries for WhatsApp messages?

With Brevo, you can send WhatsApp messages to recipients in over 130 countries. To view the full list of available countries, check our WhatsApp pricing calculator.

❗️ Important
Customers in Turkey cannot receive messages sent by businesses using the WhatsApp Business Platform. However, businesses in Turkey can send messages to other countries using the WhatsApp Business Platform.
Some countries have their number blocked as they are excluded from communicating with WhatsApp for Business numbers: 

Crimea (+7978)
Cuba (+53)
Iran (+98)
North Korea (+850)
Syria (+963)
👛 How can I p

urchase WhatsApp credits?

To purchase WhatsApp credits, go to Your account name > My Plan > SMS & WhatsApp messages. To learn more, check our dedicated section in About add-ons or Pay as you go.
💲

How much is a WhatsApp message on Brevo? 

Like prepaid or pay-as-you-go email and SMS credits, WhatsApp credits can be purchased as an add-on and never expire. WhatsApp credits are not included in subscriptions and vary in credit consumption. Buy packs of SMS or WhatsApp credits to send your SMS and WhatsApp campaigns to a specific location. 

The cost to send one WhatsApp message varies by country and volume. To send one WhatsApp message in a country, you need to use multiple credits, and the exact number depends on the country. For example, sending 100 WhatsApp messages in North America consumes 17.080 credits, but sending 100 WhatsApp messages in Indonesia consumes 36.680 credits. To learn more, check our WhatsApp pricing calculator.

💡 Good to know

Purchase a monthly or yearly plan and get your first 1,000 messages free. You can use both SMS and WhatsApp credits to send WhatsApp messages.
💰 How am I charged for the sending of WhatsApp messages on Brevo? 
As explained above, the price of one WhatsApp message depends on the country to which you are sending it. However, depending on the type of WhatsApp conversation you have with your contacts, you will be charged differently: 
Business-initiated conversations are the conversations that your business starts and that are based on message templates that need to be approved by Meta before being sent. Business-initiated conversations include:
Marketing communications.

Transactional messages such as shipping updates, order updates, and account verifications.

Automation messages such as anniversary or welcome messages.
On Brevo, those business-initiated conversations are the messages created on the WhatsApp campaigns app. Each message sent to each of your contacts is billed according to the country it is sent to. Use our WhatsApp pricing calculator to check how much a WhatsApp message could cost you.
User-initiated conversations
include all messages exchanged between your business and a contact in a 24-hour conversation window, regardless of the number of messages you send. You can receive and answer your customers' WhatsApp messages in real time with the
Conversations app
. You will be charged the
rate of one WhatsApp message for each 24-hour conversation session
. Charges for conversations are based on the contact's phone number. Rates will
vary by country or region.
❗️ Important
If you send a message of a different type during a conversation (like a marketing message during a service conversation), it will open a new conversation and you will be charged for a business-initiated conversation. 
If you
do not respond
to your customer's message within 24 hours, the
window will be closed
, and you won't be able to reply to their messages anymore. You will only be able to use template WhatsApp messages from the
WhatsApp campaigns app
and pay to send them.  
💡 Good to know
Use Facebook ads or CTAs containing your WhatsApp business phone number as a free entry point of conversation for your users. If they contact you, you will
be charged the rate of one WhatsApp message for the 24-hour window.
⚖️

Where can I check my WhatsApp credit balance?

Your remaining SMS and WhatsApp credits are indicated in Usage and plan at the top-right of your screen: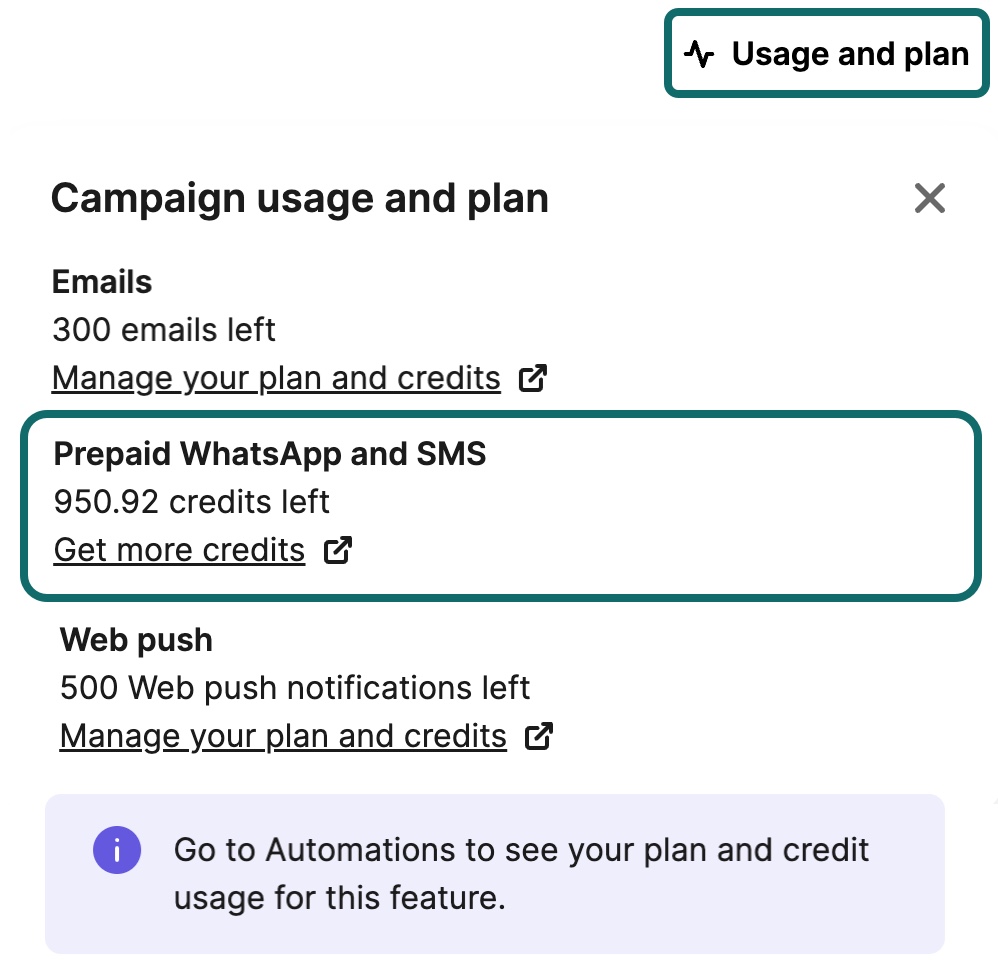 ⏭ What's next?
🤔 Have a question?
If you have a question, feel free to contact our support team by creating a ticket from your account. If you don't have an account yet, you can contact us here.
💬 Was this article helpful?
7 out of 14 found this helpful