You can connect your calendar to Brevo Meetings. Connecting your personal or professional calendar to Meetings is a good way to automatically display your availabilities. 
There are three platforms you can connect to Meetings: 
 

Primary Google Calendar

 

Microsoft Outlook Calendar

 

Microsoft Exchange Calendar
You can connect Meetings to your calendar during the onboarding, but you can also do it at any time afterward. You can also disconnect your calendar if you want to.
🤔 Why connect your calendar to Meetings? 
Connect your calendar to Meetings to simplify organizing, avoid double bookings, and manage meetings from your everyday calendar. Your booking pages will show your availability based on your calendar.
When you have an appointment on your calendar, clients cannot book a meeting at that time. If you book a meeting with a client, it will appear automatically on your connected calendar. If you cancel or reschedule a meeting, the changes will be reflected on Brevo Meetings after a few seconds. You can also inform the participants of the changes directly from your connected calendar.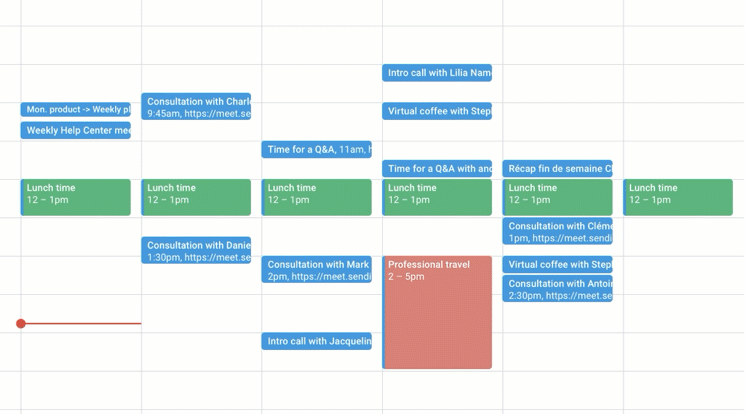 🔗 Connect your own calendar to Meetings
From Brevo, go to Meetings > Availability.
Go to the Connected calendars tab.
Click Connect calendar next to the calendar you want to connect.

Depending on the type of calendar chosen, follow the steps required on the platform.


💡 Good to know

The steps are similar on each platform and mostly consist of

choosing your account

and

authorizing Brevo

to access it.
❗ Google Calendar anti-spam policy
❗️ Important
Due to Google Calendar's new
anti-spam policy
, if you have not interacted with a client by email before a booking, the meeting will
not be automatically added
to your Google Calendar. Your client will need to click the confirmation link they receive after the booking. To accept all bookings automatically, follow the procedure below.
To make sure all your bookings appear on Google Calendar automatically:
From Google Calendar, click the Settings icon > Settings.
Under General, go to Event settings.
In the Add invitations to my calendar dropdown, select From everyone.


❌ Disconnect your calendar from Meetings
You can always disconnect your calendar from Meetings. 
To do so: 
From Brevo, go to Meetings > Availability.
Go to the Connect calendars tab.
Click Disconnect calendar.

Your calendar is disconnected from Meetings. 
What happens once I've disconnected my calendar from Meetings? 
Your already planned meetings will still be displayed on your calendar. However, any future planned meetings will not be displayed. Your availability will not be set up according to your calendar anymore.
⏩ What's next?
🤔 Have a question?
If you have a question, feel free to contact our support team by creating a ticket from your account. If you don't have an account yet, you can contact us here.
💬 Was this article helpful?
0 out of 1 found this helpful