Depending on the type of service you offer, you can choose to charge for your meetings by credit card.
For example, if you are a professional yoga teacher, you can use Meetings for your clients to book and pay for classes with you, directly from your booking page.
💳 Step 1: Activate the payment method
💡 Good to know
Currently, the only way to collect payments for meetings is through
Stripe
. Stripe powers
credit card payments
.
Note that Stripe will send receipts to participants on your behalf. If you want to also receive the receipts, activate the feature in your Stripe settings.
You need to define a way to collect payments from clients to get paid:
On the Payment method tab, click Activate Stripe.

Follow the steps on Stripe to activate credit card payments.
⚙️ Step 2: Define your payment settings
Once credit card payments are activated, you can define the payment settings as well as the cancellation policy.
Go to the Payment settings tab.
Choose the currency for your payments. 
Choose the tax. 
Choose a cancellation policy:


Free: no charge for cancellations or modifications. 
Flexible: free until 12 hours before the meeting, 50% afterwards.
Medium: free until 48 hours before the meeting, 75% afterwards.
Strict: free until 48 hours before the meeting, 100% afterwards.

Click Save payment settings.
✍️ Step 3: Activate charges while creating or editing a meeting type
💡 Good to know
Only meeting types
with 1 host
can be charged through Meetings.
You can decide if you want to charge a meeting type while creating or editing it. 
To learn how to create or edit a meeting type, check our dedicated article Create and manage your meeting types.
At the What meeting do you offer? step, toggle Charge for this meeting and show price.
Fill in the amount you want to charge for this meeting type.

Click Save meeting type.
Charges are activated for your meeting type. The meeting is displayed as being charged on your booking page.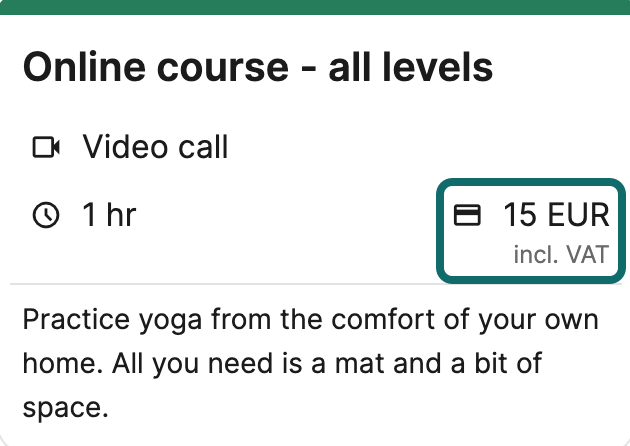 Each time clients want to book a charged meeting with you, they will be asked to add their credit card details and pay to book the meeting.
🤔 Have a question?
If you have a question, feel free to contact our support team by creating a ticket from your account. If you don't have an account yet, you can contact us here.
💬 Was this article helpful?
1 out of 2 found this helpful