When onboarding on Brevo's Meetings, you set up your booking page, and you can create your first meeting type, but you can always create new ones or/and edit them later. Meetings types are meeting templates you can use for your booking page.
To learn more bout meeting types and how Brevo's Meetings work, check our dedicated article What is Meetings?.
In this article, we will explain how to create a new meeting type, and how to edit your meeting types.
🆕 Create a new meeting type
From Brevo, click Meetings > Booking Pages > Create booking page.



💡 Good to know

You can also create a meeting type from the

Planned meetings

and

Page editor

sections or directly from a contact details page by clicking

Plan a meeting

>

Create a meeting type

.

Start configuring your meeting thanks to the next three main steps.

Step 1. "What meeting do you offer?"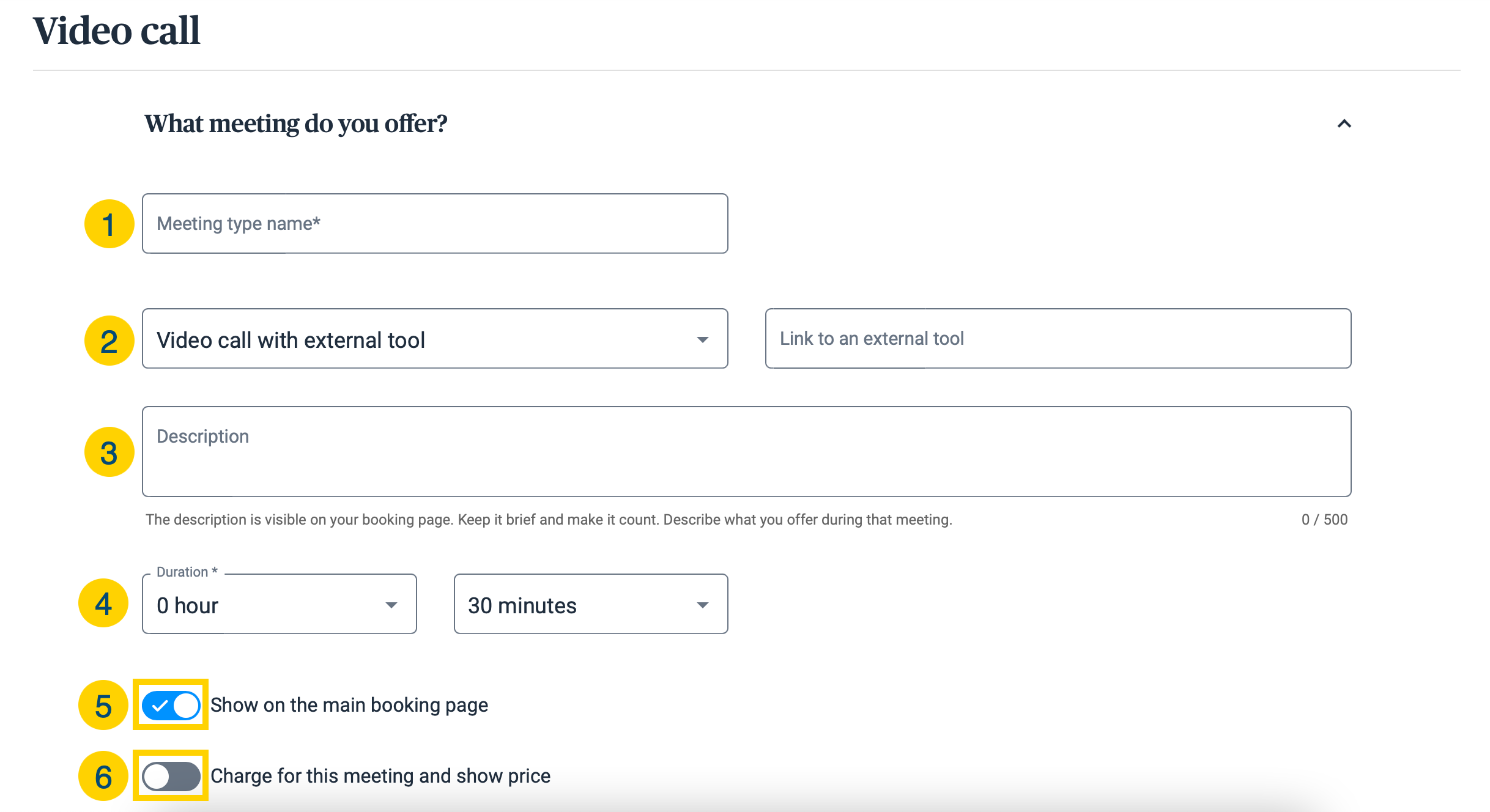 Name your meeting type.
Decide whether your meeting will be:


A video call with an external tool.
If so, you get to paste the link to the external tool on the right.
A video call using Brevo's video call service.
A phone call.
An in-person meeting.

Add a description to your meeting.
Set up a meeting duration.
Decide if you want to show your meeting type on your main booking page.
Decide if you want to charge your client.s for this meeting.
If you want to charge for this meeting, you get to enter your price.



💡 Good to know

If you want to collect payments, make sure you activate Stripe payments.

To learn how to activate Stripe payments, check our dedicated article Activate payments for your meetings .
Step 2. "When are you available?"
This step's goal is to set up your availability for your meeting type.
Choose if you want to use the default availability or not.
If you choose the default availability, your availability will be from 9am to 5pm.

If you choose to set up your own availability, you get to choose each slot you are available by selecting a day, a starting time, an ending time and/or add new availabilities.

To learn more about setting up availability, check our dedicated article Manage your availability for meetings.
Step 3. "Optimize your meeting planning"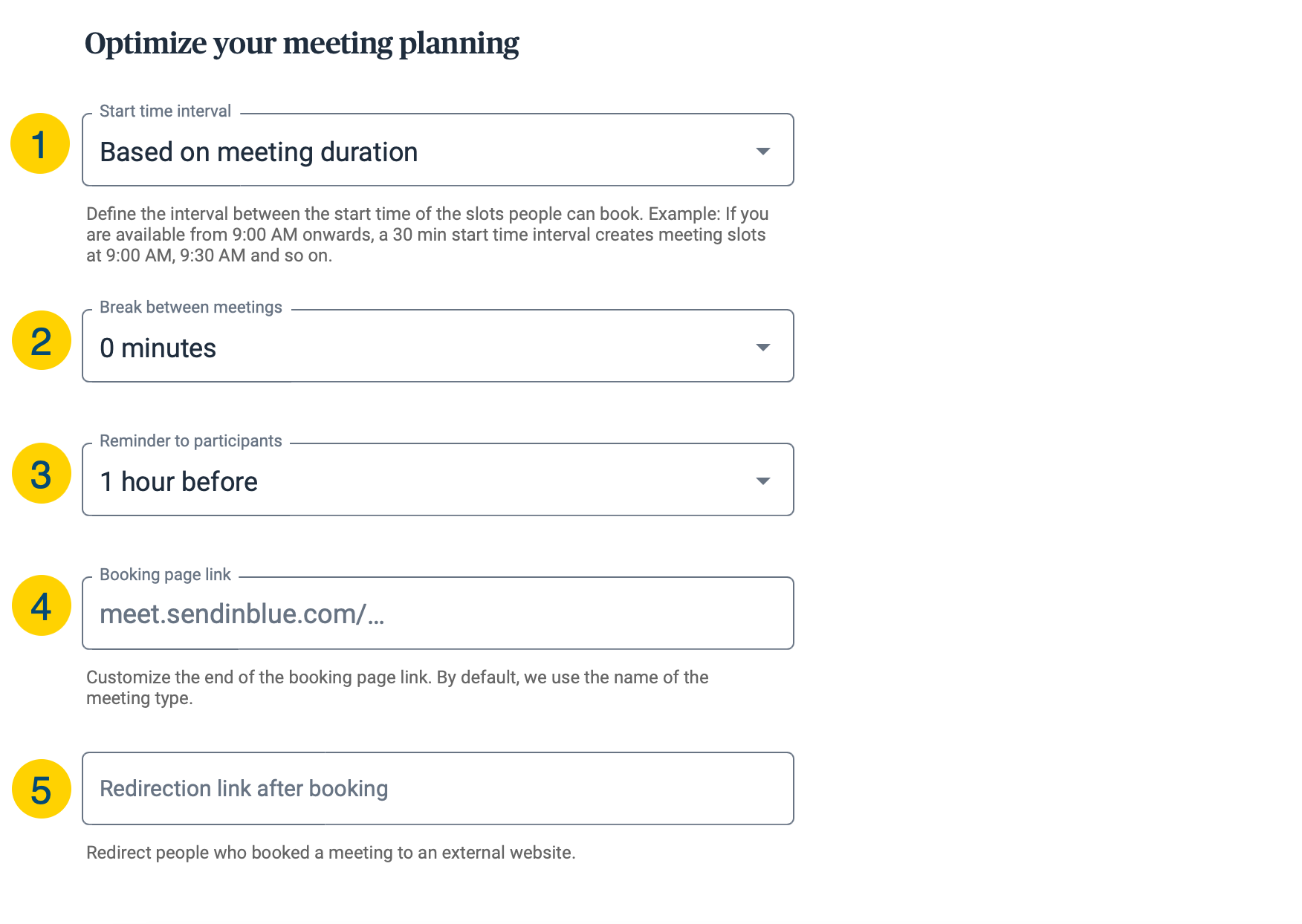 Choose a Start time interval.
A start time interval is the interval you allow between each meetings during an availability period.
For example: you want to allow your clients to book meetings every 30 minutes because you know meetings won't last more than 20-25 minutes, you can choose a start time interval of 30 minutes.
If you choose the Based on meeting duration interval, your interval between available slots will be the duration of your meeting.
Choose a break length between meetings.
Choose when to send a reminder to participants.
The reminder is an email, but can also be an SMS.

Customize the end of the meeting type's link.
If you don't customize it, the end of the link will be the meeting type's name.
Choose a redirection link.
This link will redirect people who book your meeting to the external website of your choice.
When all the steps are done, click Save booking page.
Your meeting type is created.
📝 Edit your meeting types
You can still edit your meeting types, even after creating them.
To do so:
Go to Meetings > Booking pages.
Click the meeting type you want to edit.


Edit the meeting type.
You get to edit everything you have set up when creating the meeting type.
When satisfied with the editing, click Save booking page.
Your booking type is edited and will be from now displayed as edited to your clients.
⏩ What's next?
🤔 Have a question?
If you have a question, feel free to contact our support team by creating a ticket from your account. If you don't have an account yet, you can contact us here.