You may think that the largest audience you have, the better. But that is usually not the case. In this article, we'll explain why and will look at the aspects that influence email deliverability and provide you with a list of best practices to ensure the best deliverability for your campaigns.
🔄 The virtuous circle of deliverability
The major factor for your emails to reach your recipients' inboxes is the quality of your database. Import only contacts who expect to receive your email campaigns. If your contacts are expecting to hear from you, they will be more likely to open your emails and click on your links.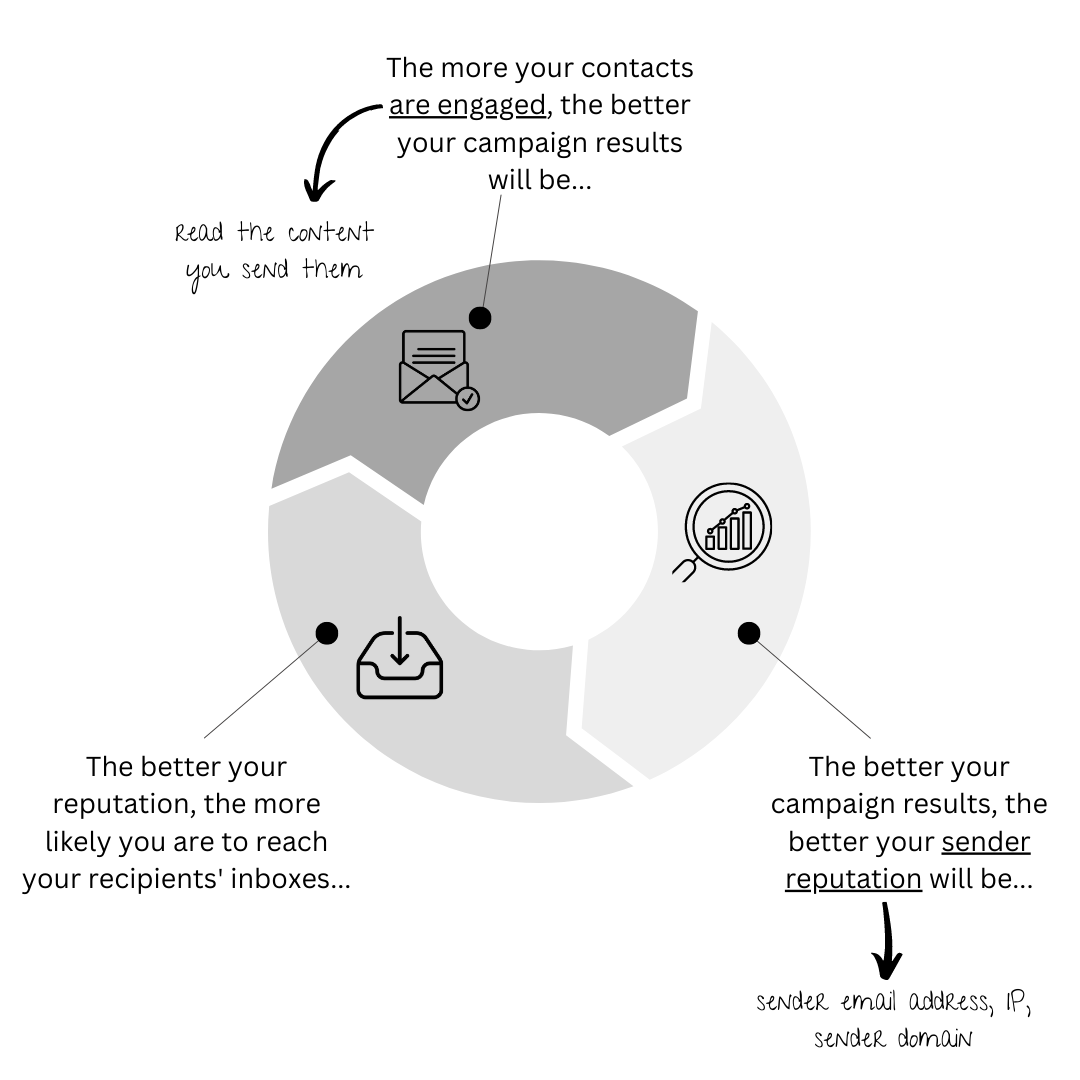 👥 Building up and maintaining your database
Only import contacts expecting to receive your campaigns
Brevo requires that you collect your contacts' consent to add them to your contact list. These contacts are expecting to receive your emails and will open them. Sending emails to contacts who gave their consent results in higher engagement and lower complaints, thus improving your deliverability.
Set up a double opt-in process
Using double opt-in confirmation on your subscription form creates an additional layer of protection to prevent:
Fake email addresses or contacts who aren't really that interested in your emails from signing up
Bots filling in your form with invalid email addresses
Spam traps from the list you are building, for example e

mail addresses with typos (also called "typo traps")

(check our dedicated article to learn more)
Double opt-in can also prevent low engagement on your campaigns: since people had to do an additional step, they are far more likely to be interested in what you send in the future.
Clean your contacts lists
Keep in mind that the more your content is of interest to your recipients, the more your emails are likely to arrive in their inboxes. We therefore strongly recommend that you take the time to identify and blocklist contacts who have never opened a single one of your campaigns, or not for a while.
On our side, Brevo automatically blocklists contacts who:
have unsubscribed from your emails,
have marked your emails as spam,
for whom an email has resulted in a hard bounce.
No action is required on your side, and we advise you not to remove those contacts from your blocklist.
Comply with opt-out legislation
You do not want to keep contacts in your list if they aren't interested in your content, as it will hurt your engagement. If they've lost interest, make it easy for them to unsubscribe with a clearly visible unsubscribe link (opt-out) in your email footer. Otherwise, they might get frustrated and just send you to spam. 
💡 Good to know
Having an unsubscribe link in your email campaign is mandatory. If you delete the unsubscribe link from your email campaign, Brevo will automatically add it back during the sending of your campaign.
🧑‍💻 Check your technical configuration
Use an easily identifiable FROM email address
Your sender's domain is what comes after the @ sign. Avoid using generic email addresses (@gmail.com, @yahoo.com, etc.). Instead, it is strongly recommended to use your own domain for your sender addresses (that of your website, if you have one, for example). This will allow you to customize your DKIM signature (see section below).
It's better if the domain used in your Reply-to email address is the same as the one used in the sender field, otherwise, your email might be considered as a fraud attempt.
We do not recommend you to use a "cousin domain" or "lookalike domain". For example, if your brand is abrand.com and you're sending your emails via the domain a-brand.com, it can be suspicious. It's best to use the same domain as your brand or to use a sub-domain.
Set up sender authentication
Your DKIM signature is like your passport, allowing you to prove your identity to ISPs. The more proof of legitimacy you accumulate, the more likely your emails are to reach your recipients' inboxes.
To personalize your DKIM signature, you will need to authenticate your domain on Brevo. Here's how: Authenticate your domain (DKIM and Brevo code).
💌 Build effective email campaigns
Create qualitative email content
Never compromise quality for quantity. Building qualitative content in an innovative way will make people look forward to your content and read it sooner.
Things to keep in mind when creating your email campaigns:
Make your emails mobile-friendly
Avoid spam words in your emails (you can find lists online)
Test all of your links before sending and don't use URL shorteners such as bit.ly or goo.gl as they are considered fraudulent by anti-spam engines
Include a clear call-to-action

Send content people expected to get when they subscribed to your newsletter or use segments to meet everyone's expectations (see below)
Target specific segments
Using list segmentation is a very good way to stick to good emailing practices, one of them being to only send emails to active contacts who have interacted with your emails (opens/clicks) in the last few months.
Also, the more you target contacts with content that is relevant to them, the more likely they're going to actually read your emails. So having different contact lists based on interests, or segmenting according to specific database information can be a key element to have good email deliverability. 
Segmenting your contacts based on what you know about them is also useful to send more targeted email marketing campaigns. Segmenting will result in better campaign results and increased knowledge of your contacts.
Find out everything about Segments here.
Test your email campaigns
Brevo offers several options to test your email campaigns before sending them to all your contacts:
Send your campaigns with the right timing and frequency
Sending your campaigns at the right time increases the likelihood that contacts will open and click on your emails. And remember, anything that improves engagement, improves deliverability as well. You can use Brevo's Send Time Optimization feature to eliminate any guesswork by choosing the right time for each contact based on their engagement on your past campaigns.
💡 Good to know
This feature is available for
Business
and
BrevoPlus
plans.
📈 Monitor your metrics
Monitoring your metrics will help you judge the performance of an email campaign and decide which aspects should be improved.
Here are the key email marketing metrics that you should be tracking in order to evaluate your email campaigns:
Open rate: percentage of recipients who have opened an email divided by the number of emails delivered.
Click rate: percentage of recipients who have clicked an email divided by the number of emails delivered.
Hard bounce rate: percentage of failed deliveries due to invalid email. 
Soft bounce rate: percentage of failed deliveries because the email has been detected as potential spam and was rejected (but the email address can be valid)
Complaint rate: number of people who received your email and hit the "Report Spam" button divided by the number of emails delivered.
Unsubscribe rate: percentage of recipients who have unsubscribed from a campaign or emailing list via the unsubscription link.
If you have a dedicated IP
If you have a dedicated IP, we have a few more best practices for you!  
Associate your domain with your dedicated IP
If you're using a dedicated IP, your dedicated IP needs to be associated with a sending domain for it to work correctly. Associating your domain with your dedicated IP also helps ensure that the domain listed as the sender on the email matches the domain that the email appears to have been sent from. When these values match, ISPs can more easily verify the identity of your sender and are much more likely to deliver your emails in your contacts' inbox.
You have probably done this part while configuring your dedicated IP, but it can be good to check if your settings are still good in Senders & IP > Dedicated IPs > Configure
Warm up your IP
This point is very important. If you are using a dedicated IP to send your emails, take the time to warm it up before sending large volumes of emails, or if you have sent few emails in the past couple of weeks so that you build and maintain a positive reputation with ISPs and improve your deliverability.
If you're a BrevoPlus client with large volumes, our deliverability team can help handle this part for you.
❗️ Important
Most deliverability issues for users on dedicated IPs are due to a bad warm-up. It takes weeks to build a reputation on a dedicated IP:
If you send too many emails at once, your emails are going to be rejected by webmails and your dedicated IP may get blocked by them as well.
On the contrary, if you send very few emails for a period of time, you'll have to warm up your IP again.
Check your sender score
If you are using a dedicated IP, you can check your sender score. Email sender score sits on a scale of 1-100 and reflects one of the many reputation elements of your IP, which is one factor that determines whether you are filtered out as a spammer. To get an assessment of your current sender score, go over to SenderScore.org and type in your IP address If your score is not above 90, there is room for improvement.
🤔 Have a question?
If you have a question, feel free to contact our support team by creating a ticket from your account. If you don't have an account yet, you can contact us here.
💬 Was this article helpful?
109 out of 122 found this helpful