In this article, we'll explain how to create, design, and send or schedule a Web Push Campaign.
Before you start
Make sure you've set up Web Push. If you haven't done it, you can check our dedicated article Set up Web Push.
Step 1: Create your campaign
The Web Push campaign dashboard is a space where all your in-creation and scheduled Web push campaigns are stored when you save, send or schedule them.
Go to Campaign > Web Push.
Click Create a web push campaign.


Name your campaign.


💡 Good to know

Your campaign's name will only be visible to you, it's not the name that clients will see on your Web Push Notifications.

Click Begin.

Step 2: Design your campaign
This step consists of designing your Web Push Notification's visual and textual content.

To
The number of subscribers indicated below To is the number of people who enabled opt-in from your website and accepted to receive notifications after you set up Web Push Notifications. If you have no subscribers, you will not be able to schedule your Web Push Campaign.
Notification design
To start designing your Web Push Notification, click Edit design.
You are directed to the design editing board, and you can start designing your Web Push Notifications.
While you design your Web Push Notification, you can see the visual result of your Push Notification on your right, depending on your client's computer brand.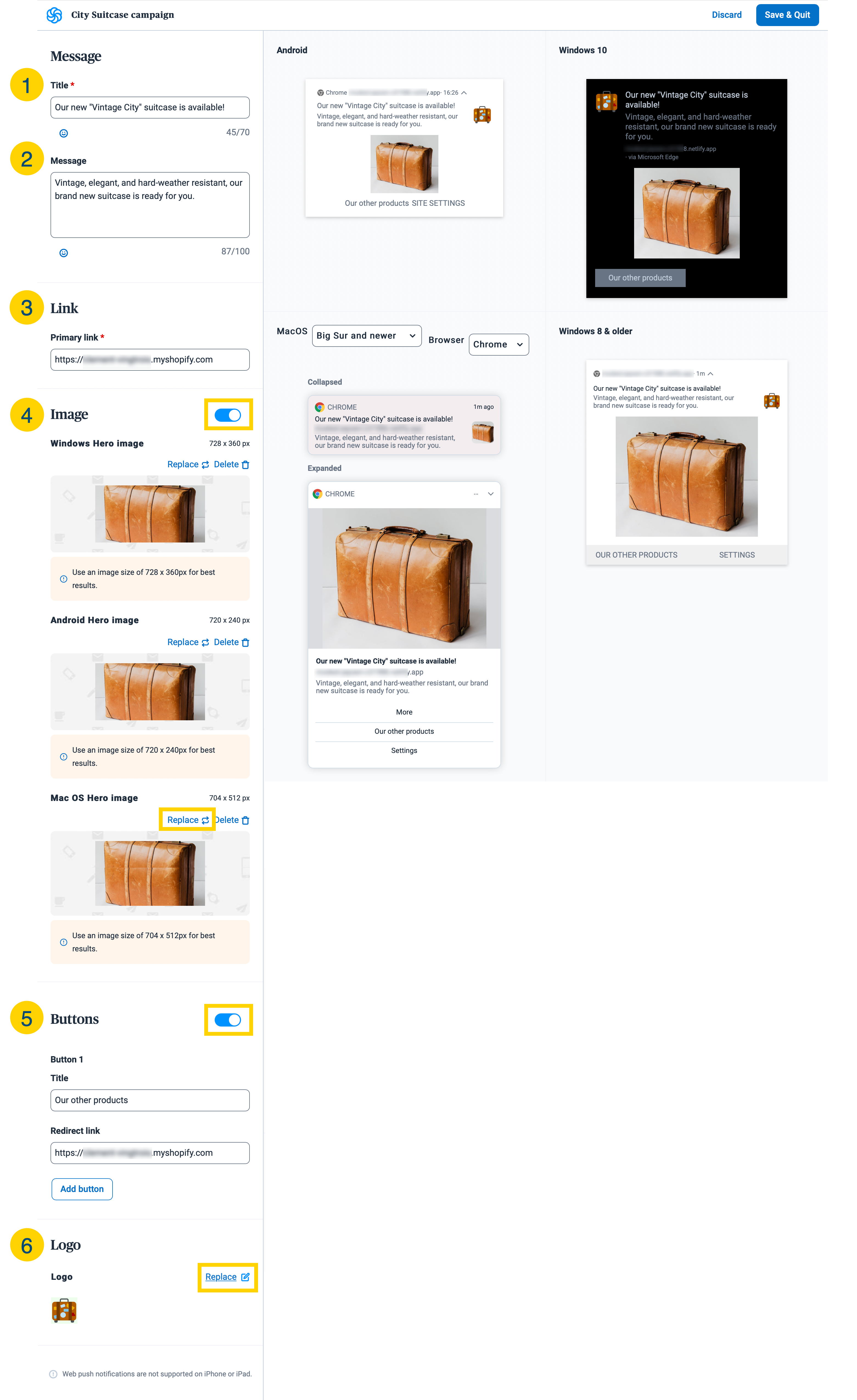 Choose a title.
Your Web Push Notification title is the first thing your client will read. It has to be short, appealing, and to introduce what you are promoting efficiently.
Write a message.
The message of your Web Push Notifications allows you to share more about what you are promoting. Its function is to complete the title and add more details about what you want to share with your clients.
Enter a primary link.
The primary link is where your clients will be directed once they click on the Web Push Notifications. A primary link tends to give direct access to what you are promoting.


➡️ For example

With your Web Push Notification, you promote a new pair of shoes. Your primary link will lead to the webpage where your clients can buy your new pair of shoes.

Add an image.


Adding an image to your Web Push Notification is helpful to illustrate what you are trying to promote and visually appeal to clients.

You need to upload an image for each computer brand your clients might use (Windows, Android, Mac OS) . The Mac OS image is automatically your website's logo, but you can replace it.

If you upload an image, you can access the Content library. The content library is an image library that allows you to upload already uploaded images, new uploads, or stock images (high-resolution free photos from online). To learn more about the Content library, check our dedicated article [New design] Use folders to organize images in your Content Library

Add additional buttons.
You can add buttons to your Web Push Notification. Feel free to name them as you wish and add a redirect link. This way, your Web Push can contain more than one link and options.
Replace your logo.
The logo of your Web Push Notification is automatically your website's logo. You can however replace it with any other logo you wish.
Click Save & Quit.

Step 3: Schedule your campaign
Click Schedule.

Choose when you would like to send your Web Push Notifications campaign.
You can send it now, or schedule it for later.

Click Send now or Schedule in the bottom right.
Your Web Push Notifications Campaign is sent or scheduled.


Once you've sent your campaign
Web Push notification confirmation
Once you've sent your campaign, you will receive the Web Push notification you've created on your browser.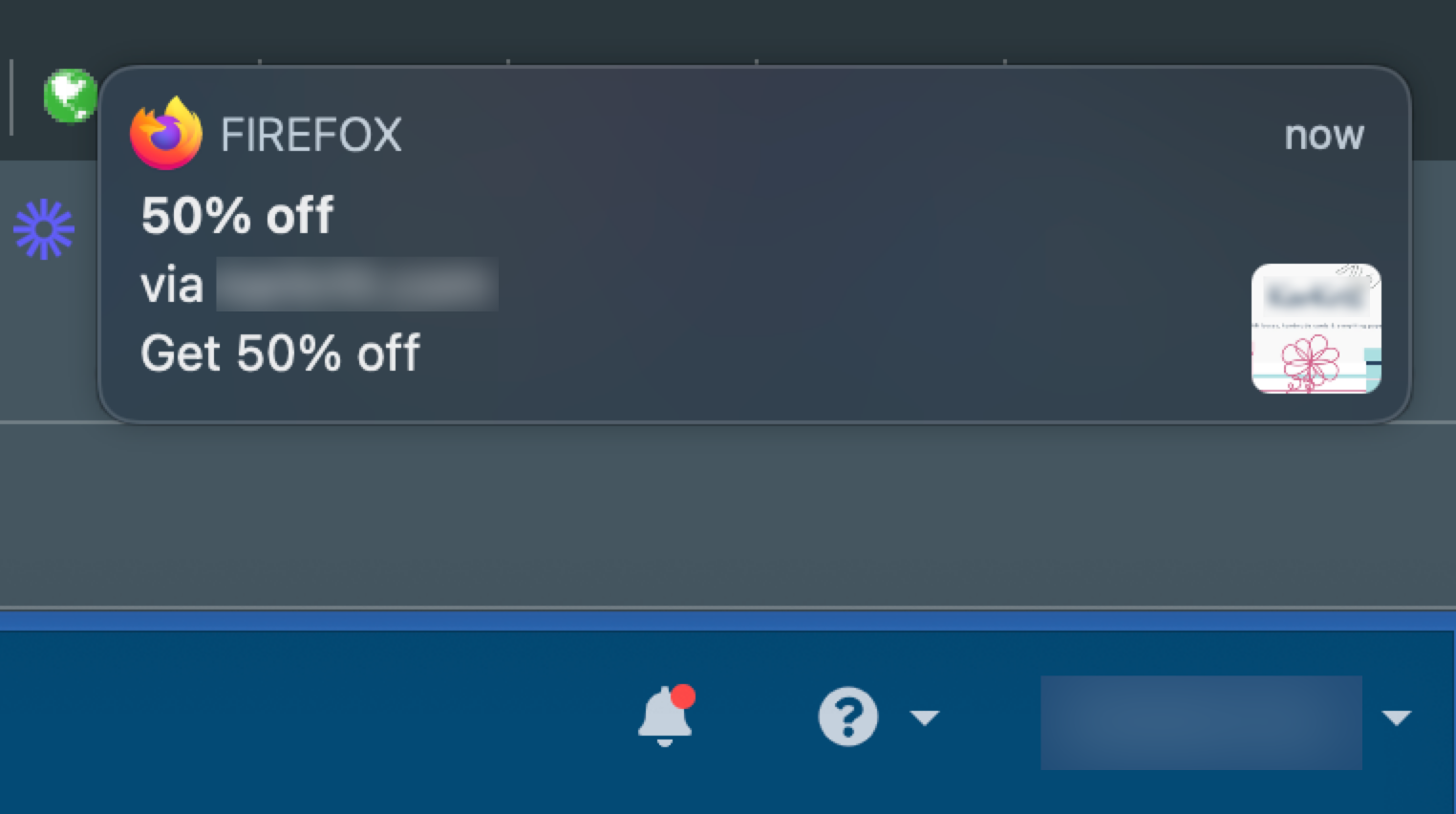 Web Push contacts
As soon as someone allows their browser to subscribe to your Web Push Notifications when they visit your website, they will become contacts in your Brevo account.
However, note that a visitor that subscribes to your push notifications doesn't need to enter any personal details like name, email address, phone number, etc. This is why most of your Web Push contacts are anonymous contacts. Since you don't know any of their details, you won't be able to recontact them or use them in any Brevo feature.
But, there are cases where it is possible to get access to your contact's details. If an anonymous contact creates an account on your website or logs into an existing account, their details will automatically be synced from your website. They won't be anonymous anymore.
Your Contacts page displays the number of contacts and anonymous contacts you have. Anonymous contacts are gathered at the bottom of your Contacts page in a separate line. To manage them, select the Anonymous Push contacts line and choose if you either want to:
Add anonymous contacts to a list, e.g., you can create a list named Anonymous Web Push contacts and store all anonymous contacts there.
Delete anonymous contacts permanently.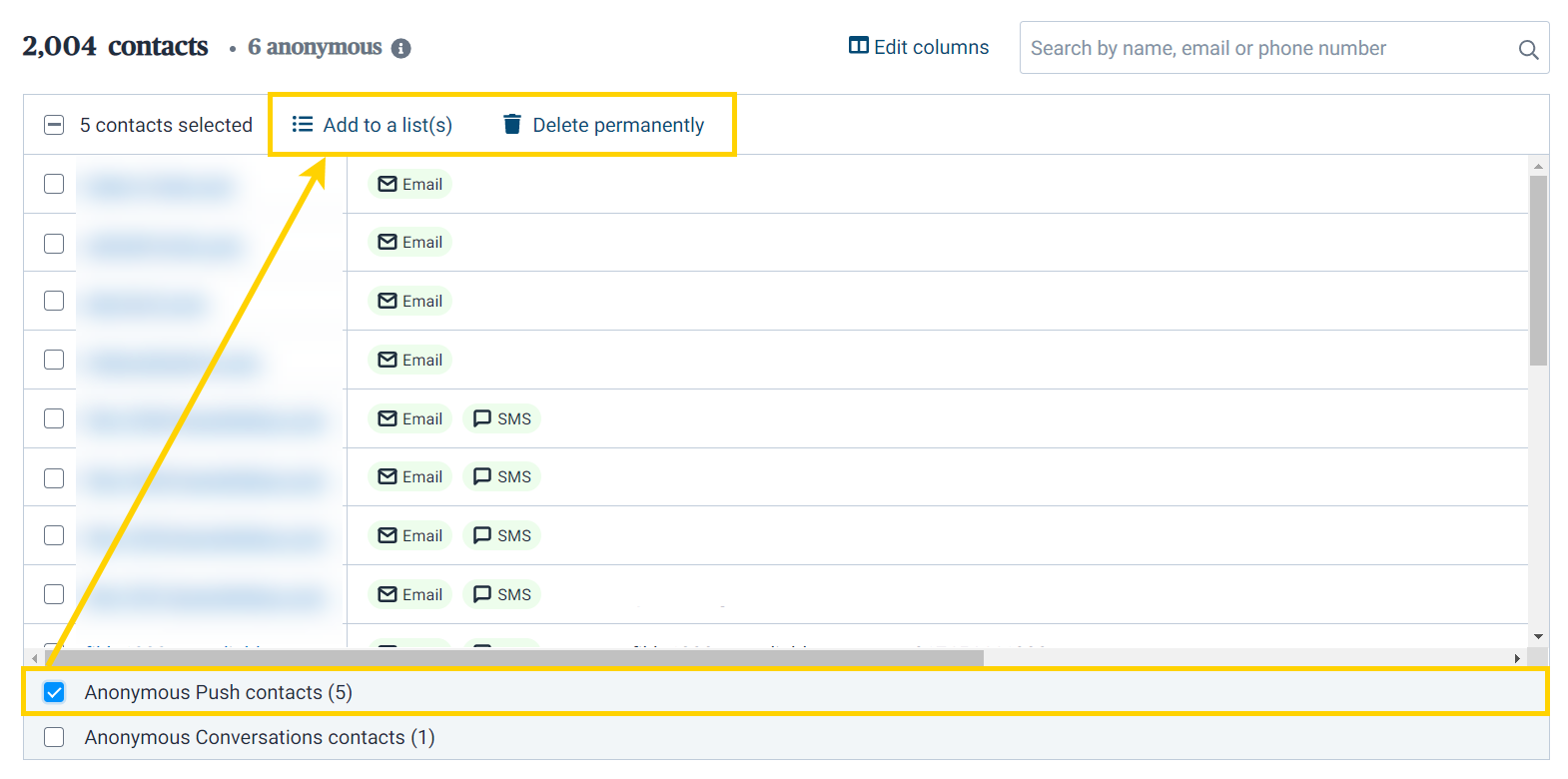 💡 Good to know
On the
classic Contacts page
, anonymous contacts are added to your contact list, and their attributes are filled with the
No entry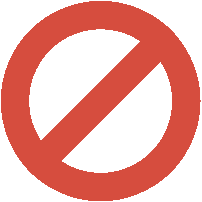 icon:

Web Push Campaigns statistics
Once your campaign is sent or scheduled, you get access to a few statistics on your Web Campaign Dashboard.

Status shows your campaign's status (sent, scheduled, draft and more).
Scheduled shows you the scheduled date for your campaign if you've decided to schedule it.
Sent is the number of clients to who you've sent your campaign.
Showings is the percentage of viewers who saw your Web Push notification.
Clicks shows

how many subscribers clicked on your Web Push notification out of the ones who saw it

.
⏩ What's next?
🤔 Have a question?
If you have a question, feel free to contact our support team by creating a ticket from your account. If you don't have an account yet, you can contact us here.