At the bottom of the Chat widget page, you will find the Customize section where you can decide which advanced features you want to offer to your customers when they use your chat widget, such as rating the conversation or sharing files. 

If you want to customize your chat widget appearance, check our dedicated article Customize your chat widget appearance.
💡 Good to know
If you are a developer or work with a developer, you can go further in the customization of your chat widget by providing your visitors with a translation for your chat widget in a language not supported by Conversations, or by identifying known users. To learn more, check out our
API documentation
.
Messenger mode - Enable the chat widget even when offline
You can check the Activate messenger mode when agents are not online box to automatically display your chat widget in Messenger mode on your website. The messenger mode is active when all your agents are offline or invisible. With the Messenger mode, visitors know that they can contact you but must expect a delay in response. You can customize your Messenger mode greeting message to guide your visitors. To learn more, check our dedicated section Customize your greeting messages.

File upload - Let visitors upload files during the conversation
The sending of files from your visitors can be very useful to receive a screenshot or document that could help you better understand the issue or bug they're facing and solve it quickly. If you would like to allow this, check the Allow visitors to upload files box.

The pin 🧷 icon will be visible to your visitors on the chat widget next to the sending icon. See how the sending of files could help you solve an issue: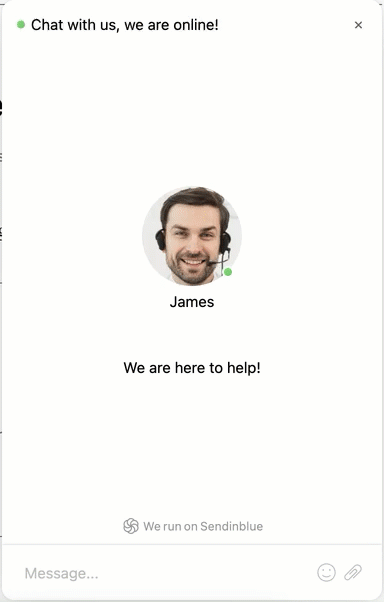 You can manage the allowed file types from Conversations > Settings > Preferences. The file size limit is 20MB and you can either choose to:
Allow any file types. 
Allow only certain file types. The default file types are only suggestions. Remove from the list the file types you don't want to allow and add the ones you do. 
Restrict certain file types. The default file types are only suggestions. Remove from the list the file types that you want to allow and add to the list the ones you want to restrict.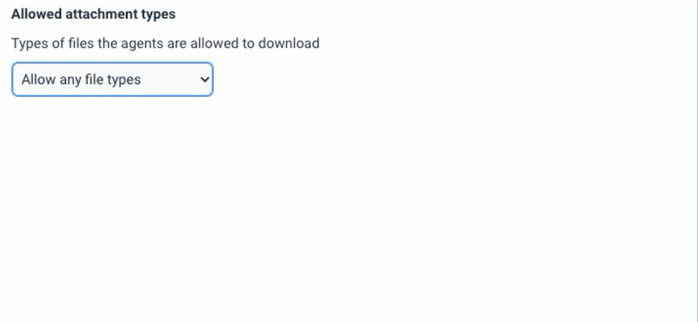 Conversation ratings - Let visitors rate the conversation
It is always very important to take feedback into account to improve service. If you want to receive feedback from your visitors, check the Allow visitors to rate conversations box. A star ⭐️ icon will be added to the chat widget to allow visitors to rate the conversation with your agents. Visitors can rate the conversation with a green thumb if they are satisfied, or a red thumb if they aren't. They can also leave a comment (max. 2048 characters) to explain their choice.
See how it works on your visitors' side: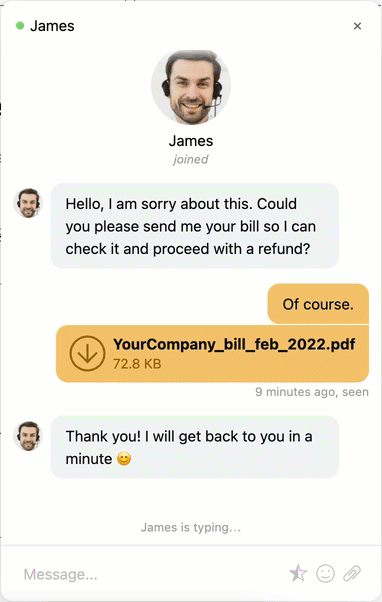 You will be able to access your conversations rating in the Statistics tab of Conversations. To learn more, check our dedicated article Understand the Statistics page.
Typing insight - See what your visitors are typing
Being patient when you are looking for an answer or when you have an issue with something can be difficult. This is why it is important to be able to quickly reply to visitors to prevent them from losing patience. Conversations offers an advanced feature that allows agents to see what visitors are typing before they even send their questions. To activate this feature, check the Allow agents to see what visitors type before they hit "send" box. 

Allowing the Typing insight feature gives your agents time to understand the question and find the answer to it. This advanced feature is available only after your agent or visitor has sent at least one message. See how this feature works in your conversations: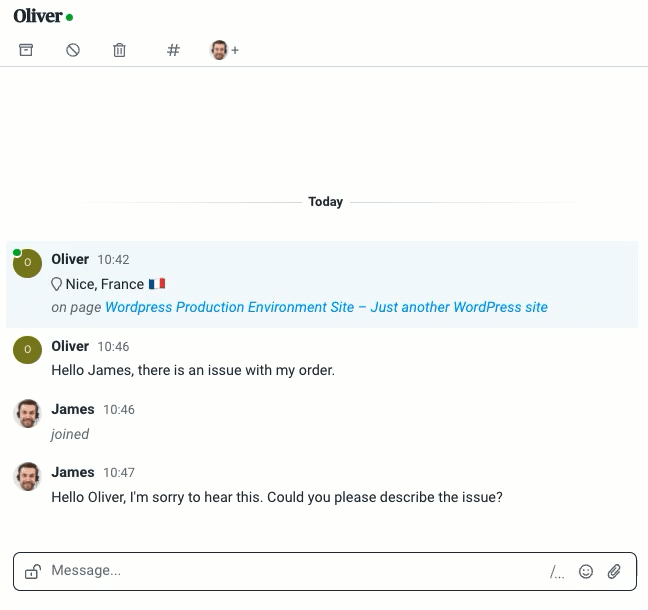 ❗️ Important
Be careful not to send the answer before the visitor hits send. The visitor would know that you have seen what they are typing which could lead to a loss of trust. Messages that have not yet been sent are grayed out and marked with the
👁
not yet sent
mention.
To reply even faster, you can set up pre-saved answers for frequently asked questions to quickly add to your conversations. To learn more, check our dedicated article Set up and use Saved replies.
Mobile button - Let visitors use the chat widget on every device
Mobile devices are more and more used nowadays. People tend to use their phones more than their computers, especially when shopping online. If your website is responsive, allowing your chat widget on mobile devices can be very useful. To do so, check the Enable chat button on mobile devices box. 

Your chat button will be placed exactly how you chose to place it in your desktop version and your chat widget will be fully displayed on the mobile page of your visitors. See what your chat widget could look like on a mobile phone: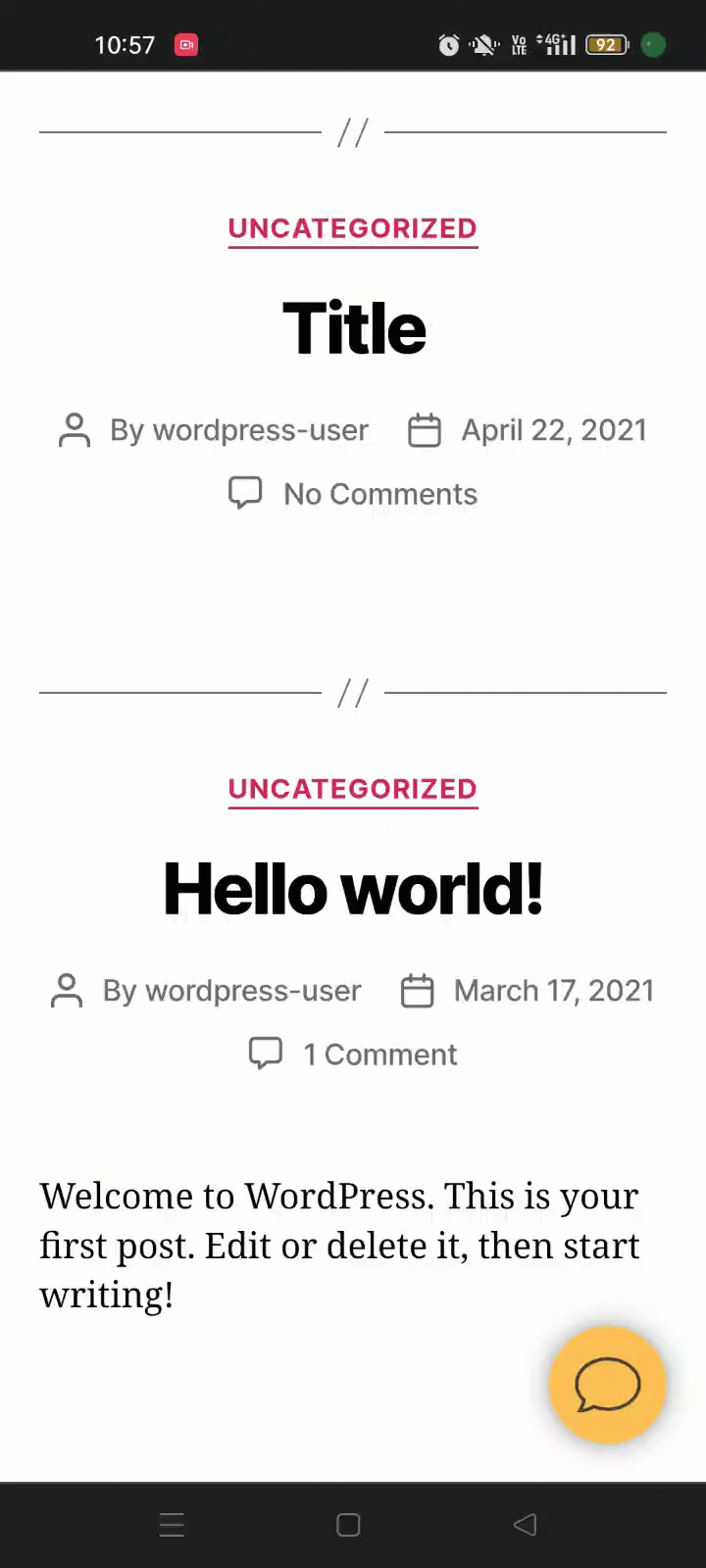 💡 Good to know
If you're a developer or work with a developer, you can adapt your chat widget to the mobile version of your website, e.g. changing its position. To learn more, check out our
API documentation
.
Sound - Enable sound on visitors' devices to notify them of your answer
Usually, after sending their question in the chat widget, visitors tend to go to another web page while waiting for an answer because they expect it to take time and don't want to wait for it. In this case, you can choose to check the Enable sounds on the visitor's side box to send a sound notification to visitors each time your agents answer them and thus, notify them. This feature also generates a sound when your visitor sends a message.
❗️ Important
Please note that if your visitors turned off their sound or blocked notifications in their browser's settings, they will not receive the sound notification. However, they will still receive a visual notification on their browser's tab. See for example how a visual notification looks like on a Google Chrome tab: 

🤔 Have a question?
If you have a question, feel free to contact our support team by creating a ticket from your account. If you don't have an account yet, you can contact us here.
💬 Was this article helpful?
2 out of 5 found this helpful