If your agents operate at different hours, you can set up specific operating hours for each of them directly from their Chat profile settings. This feature automatically switches agents' status to Online when they are available to answer visitors and to Offline when they are off. 
The Chat profile settings also offer the possibility to set individual advanced settings to automatically switch statuses in specific situations. For example, you can decide if agents should automatically switch to offline after a certain period of time if they forget to do so manually. You can also decide if agents should receive new conversations when they are invisible but other agents delay in responding. To learn more, check our dedicated section Set up advanced availability settings.
You can also customize agents' profiles with a picture and name. To learn more, check our dedicated article Customize your chat operator profile.
Before you start
Ensure you have selected a timezone for your Brevo account to allow us to display your chatbot at the hours that correspond to your time zone. Choose your timezone from the account dropdown > Select your language page. 
Set up operating hours
To enable operating hours for your profile, go to Settings > Chat profile and scroll down to the Operating hours section. Check the days on which you want to be online and set a time slot for each day. You will automatically go online on the days and times you selected. Each agent can have different operating days and hours and agents will not receive new messages outside of their operating hours. 
In this example, the agent works from Monday to Friday at different time slots: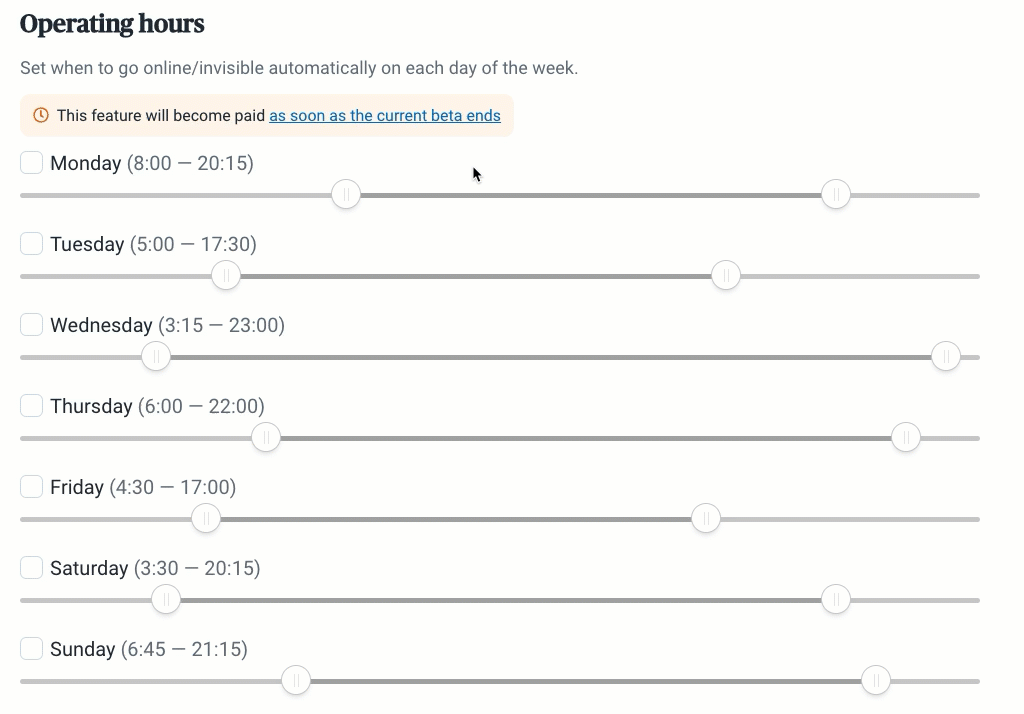 If you use our Mobile app, you can receive a notification on your smartphone when your operating hours start and when they end. To enable notifications on your smartphone, check the box Send notifications when operating hours start/end under the operating hours set up:

Your operating hours are now set up. You will automatically switch to online at the beginning of your workday, and switch to Offline at the end of the day. 
Set up advanced availability settings
The Advanced settings section from Settings > Chat profile gives each agent the possibility to: 
Specify a delay after which they will automatically go offline if they do not answer new messages:

Stay invisible but receive new conversations when online agents delay in responding:

🤔 Have a question?
If you have a question, feel free to contact our support team by creating a ticket from your account. If you don't have an account yet, you can contact us here.
💬 Was this article helpful?
2 out of 2 found this helpful