We've created a series of articles to help you discover Marketing Automation. In this article, we will introduce you to the notion of Marketing Automation.
Good to know
Marketing Automation is available for all Brevo users.
Learn more about Marketing Automation in our help articles.
What does Marketing Automation mean?
Marketing Automation refers to the use of software to automate repetitive tasks related to marketing activities. The tasks are automated in response to pre-defined trigger conditions, which usually correspond to actions that your users take on your site or in your emails. 


The tasks that can be automated include, but are not limited to:
the sending of emails and SMS,
the segmentation of contacts into different lists,
the update of information in your contact database,
the creation of CRM tasks,
the recording of a conversion following a purchase, etc.
💡 Good to know
You may have already heard of the terms autoresponder, trigger marketing, or automated emails: all of these terms refer to the automation of marketing tasks, so we employ the term "marketing automation" to keep things simple.
How does Marketing Automation work?
With Marketing Automation, you can turn your manual and repetitive tasks into automated processes that will run in the background while you focus on more bigger projects. How can you do that? By building workflows that will automatically perform actions based on behavior and data.
A marketing automation workflow is a series of automated actions (sending emails or SMS, updating a contact attribute, moving a contact to a new list, etc.) that are triggered by certain conditions or actions taken by your website visitors.
For example, one of the most basic workflows is automatically sending a welcome message when a new contact signs up on your site. Here is an example of how a welcome message workflow can go: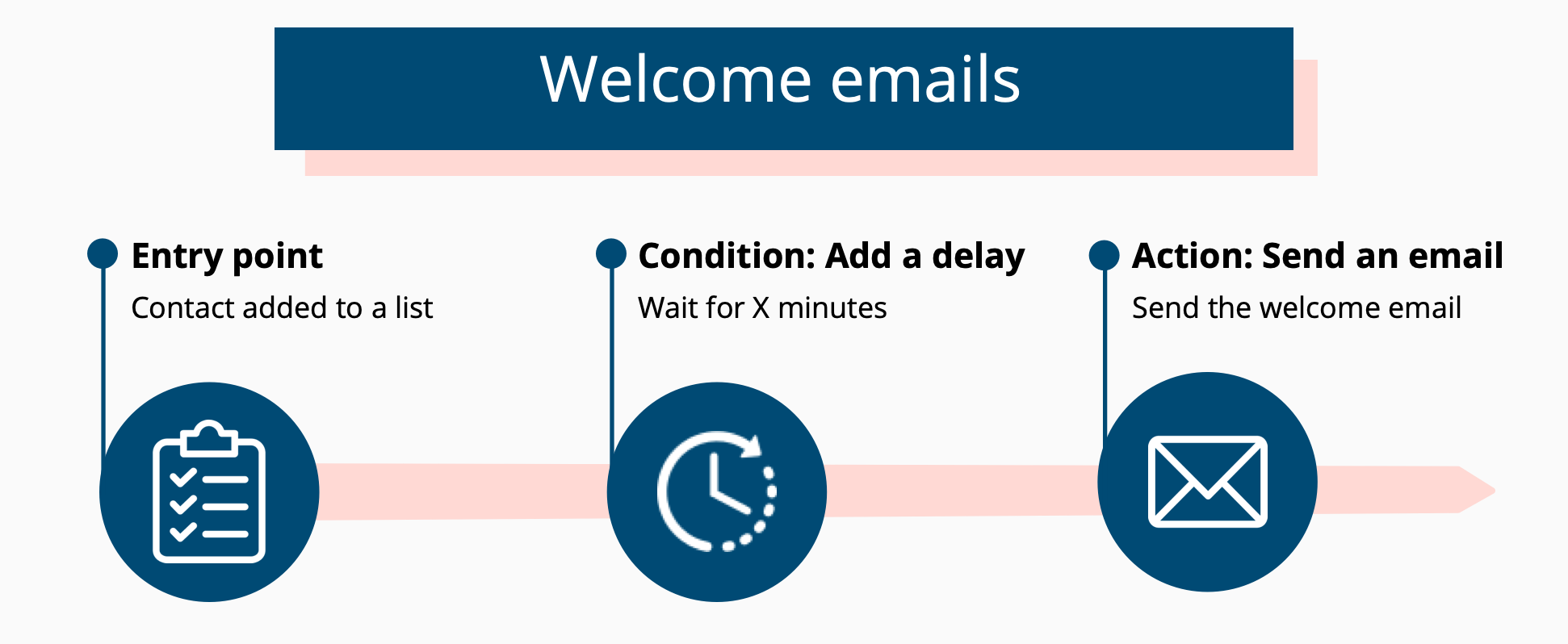 ❗️ Important
Emails sent through an Automation workflow are
sent through the Brevo SMTP platform
, and not through the email campaign canal,
as they are sent on a one-to-one basis
. 
What are the benefits of Marketing Automation?
Any marketer looking to increase the number and lifetime of their customer relationships can simplify the process of achieving this goal with the help of automation. However, automation can also help mature businesses with a clear vision of their conversion funnel become more profitable.
Here a few key benefits of Marketing Automation:
Automate time-consuming tasks in your marketing strategy
Improve customer experience through personalized journeys
Revive your inactive and retain your reactive contacts
Give more visibility to your company/brand
This increased efficiency allows you to focus on what's important – your marketing strategy. As a result you can devote more time to developing and scaling your activities. Insights from your marketing automation platform can also show where your efforts are most fruitful, leading to better ROI. 
How can I define my Marketing Automation strategy?
Before you get started with Marketing Automation, define the purpose of your future workflows:
Decide on your goals

–

 

What are you aiming to achieve? What are your expectations at the end of the customer journey?
Define your personas and their actions

–

Who are you targeting? What is their usual journey?
Retrieve the information that will be needed to achieve your goal

–

 Do you need to know your contacts' birthday or how often they visit your website?
By answering these questions, you're already preparing the content of your workflow, the content to be sent, etc. You can then replicate this logic when building your workflow in Brevo.
⏩ What's next?
🤔 Have a question?
If you have a question, feel free to contact our support team by creating a ticket from your account. If you don't have an account yet, you can contact us here.
💬 Was this article helpful?
20 out of 34 found this helpful