The Drag & Drop Editor makes it easy to design professional-looking emails. It provides more options to customize your email and also ensures that your email looks perfect on any email client and device.
In this article, we will walk you through the editor interface and explain the key sections.
We've divided the Drag & Drop Editor articles into the following parts:
⬅️ Left navigation panel
The left navigation panel has predefined blocks such as text, image along with your saved blocks, and the default template settings. This part is divided into 3 tabs: Content, My Content, and Design.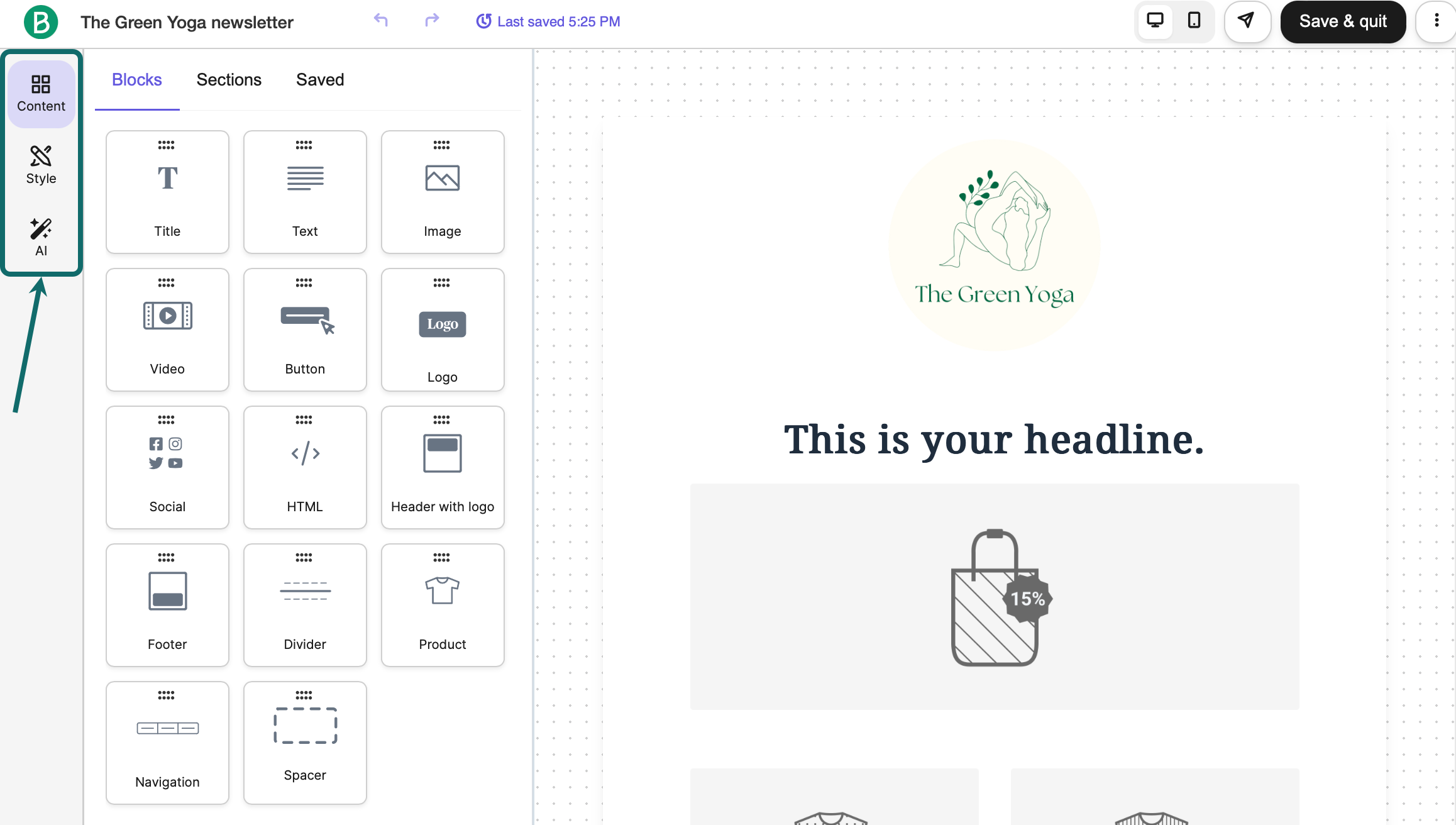 Begin your email design by dragging and dropping the layouts and content blocks into the canvas. To learn more, check our dedicated article Style vs content blocks.
Here you can set design settings for the whole template such as font, link color to avoid adding settings for each content block separately. To learn more, check our dedicated article Set the design style for your entire email.
⬆️ Top navigation bar
In the top navigation bar, you will find the following options: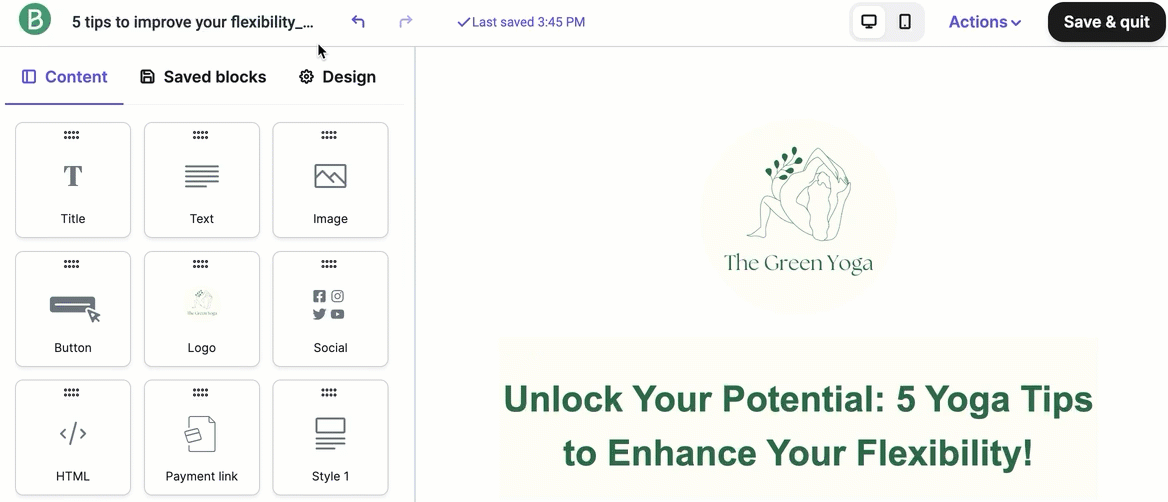 🏷 Campaign name
The name you gave to your campaign at the beginning of the campaign creation flow.
↩️ Undo/Redo changes
You can undo (⌘ or Ctrl + Z) or redo (⇧ + ⌘ or Ctrl + Z) changes while updating your design.
⌚️ Campaign last saved status
On the top left, you will see the last saved status of your campaign. The saved time is updated when the campaign is auto-saved while you are updating the design or when you manually save the campaign from Actions > Save. Click on the last saved status date to access the Version History and view backups of your email campaign and restore a version if needed.
💻 Desktop and mobile view editing
🖥 The Desktop view is displayed by default. Edit your campaign as you would like it to appear on desktops.
📱Switch to mobile view and edit your campaign as you would like it to appear on mobile devices. To learn more, check our dedicated article Edit emails in mobile view

.
📤 Send test email
You are redirected to the Preview & Test function where you can send test emails to one or more of your contacts. You can also review your campaign and make changes until everything looks the way you want.
✅ Save & quit
Save your campaign and take you back to the campaign design step.
👆 More action
Version history
Automatic and manual backups of your campaign are available here and you can also see the preview of all the versions. You can load a previous version of your campaign by selecting the version and then clicking on Restore. You can continue editing the campaign once the selected version is loaded.
Preview
You are redirected to the Preview & Test function where you can validate the personalizations in your email by using one of your contacts or/and dynamic transactional parameters and see how your email will look in different email clients.
Keyboard shortcuts
| | |
| --- | --- |
| Learn the keyboard shortcuts that can be used inside the editor to work easily and save time when designing your email campaigns. | |
Developer Mode
❗️ Important
This option is only available if you contact the
support team
to enable the
Developer Mode
in the Drag & Drop Editor.
Use this function to code your templates. To learn more, check our dedicated article Developer Mode function.
Save
Click Save to save your changes and keep working on the design.
Save as PDF
Save your email campaign design as a PDF file to print or share it with others.
Save as template
Save your email design as a template to reuse it in future email campaigns:
When you are done designing your email, click > Save as template.


❗️ Important

Any changes you make to your design after saving it as a template will not be reflected in the template.

Name your template to easily find and recognize it in your email templates list. 
Click Save as template. 

Your email design has been saved as a template! 🎉 You can now go to Campaigns > Templates > Inactive tab to define your template's settings, edit it if needed, and activate it. To know where you can use your templates, check our dedicated article Where can I use my email template? (Campaigns, Automation & Transactional).
To learn more on how to use the options available in Actions, see Restore, preview, test, and save campaign design.
⏩ What's next?
🤔 Have a question?
If you have a question, feel free to contact our support team by creating a ticket from your account. If you don't have an account yet, you can contact us here.
💬 Was this article helpful?
3 out of 16 found this helpful